JURY CITATION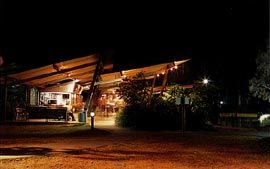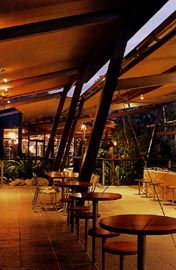 Hartley's Crocodile Adventures in Far North Queensland takes the idea of a tourist facility for the viewing of native reptiles in their natural habitat to another level. Primarily designed to allow visitors to come face-to-face with crocodiles, it also allows them to appreciate their habitat in a unique way.
The architectural expression of the building, in lightweight timber and corrugated steel, allows timber decks to be suspended over a lake inhabited by crocodiles with minimum impact on the lake.A 200-seat restaurant housed on one of the decks allows visitors to dine and relax in the environment, but at the same time maintains an element of excitement.
The implementation of various environmentally sustainable principles in the design, such as minimal airconditioning and use of power, are commendable in a tourist development such as this one.
Project Credits
HARTLEY'S CROCODILE ADVENTURES, CAIRNS
Architect McElroy Morrisson Pierce Architects—project teamFarrell Morrisson, Peter Pierce, Dale Chimes, Allan Ballard, Michael Martino.
Developer Hartleys Crocodile Farming Company. Structural consultant G & A Consultants. Electrical consultant SPA. Hydraulic consultant Parker Hydraulic Consulting Group. Environmental consultant Ganza Martin Consulting Engineers. Builder La Spina Homes. Photographer McElroy Morrison Pierce Architects.