Jury Verdict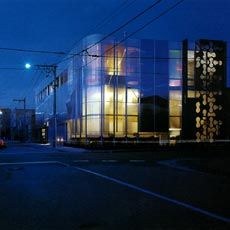 This mixed-use project sits on an intersection in what the Jury saw as a depressing fragment of the tough industrial landscape of inner-city Richmond. The architects described the same place as "dour and robust".
The project grew from an architect and a photographer's need for an office with an apartment above. It is a tight site to meet these diverse needs, but the planning has made it work well. The architects have taken a highly creative approach to engaging with the public realm and have contributed vividly to it in the process. The corner location has provided the opportunity for a wraparound layered facade, composed of semitransparent polycarbonate cellular sheeting and pierced plywood, that gives an interesting, ambiguous, semi-permanent quality to the architecture.
There is a generosity of internal space cocooned in a filmy sheath that cleverly mediates the public/private nexus. The building has a sense of transience that challenges traditional notions of durability by engaging in contemporary ideas of transformation and adaptability.
The project is a joyful demonstration of what can be achieved on a small and unprepossessing site with skill and wit, while making an impressive contribution to the life of the street.
Project Credits
Richmond Office and Studio, Melbourne
Project Architect, Project Manager Cameron Neil.
Design Architect Chris Idle. Project Team Members Susy Gee, Brent Stone. Structural Consultant John Horton Engineering Group. Quantity Surveyor Cost Control. Builder Neil + Idle Architects. Photographer Trevor Mein.