MOORILLA WINE AND FOOD CENTRE
ROSEVEAR ARCHITECTS + JAWSARCHITECTS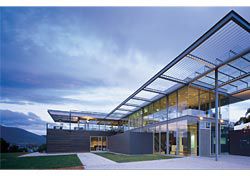 JURY CITATIONThe Moorilla Estate, Tasmania's oldest commercial winery, is located on the banks of the Derwent River and its new Wine and Food Centre makes the most of this setting. The building is designed in a "T"-shaped plan, with the entry, reception and function rooms on the ground floor.
Upstairs, within a glazed pavilion, the restaurant overlooks the river, while the wine tasting area overlooks the working winery.
A vast roof plane hovers over the building, its edges defining the limits of the outdoor decks.
It is made light as the solid sheeting gives way to fixed metal louvres. The building is distinguished by a respectful response to its setting, a clarity of planning, a crispness of detailing, a carefully considered composition, and a thoroughly integrated brace of environmental controls.
MOORILLA WINE AND FOOD CENTRE
Architect Rosevear Architects and jawsarchitects—project architect jawsarchitects; design architect Craig Rosevear (Rosevear Architects). Structural consultant Gandy and Roberts. Electrical and mechanical consultant SEMF. Acoustic consultant Vipac Engineers and Scientists.
Quantity consultant Stehel Consultants.
Photographer
Brett Boardman.