JURY CITATION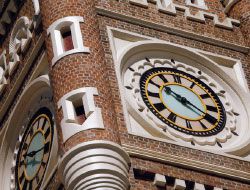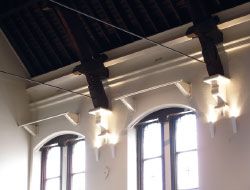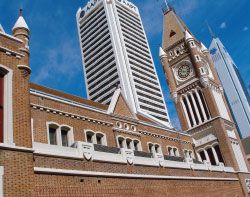 Situated in the centre of Western Australia's capital city, the Perth Town Hall is the only convict-built town hall in Australia. As one of the oldest remaining public buildings in the state and the only town hall designed in a medieval style, it occupies a unique place in Western Australia's architectural heritage.
In restoring the Town Hall to its former glory, the architects have embarked on a journey of discovery by careful and systematic investigations over a ten-year period. Without the aid of drawings, they have had to resort to extraordinary measures and persistence to bring about this successful result.
Contemporary requirements for universal access, airconditioning and services technology have all been skilfully incorporated without sacrificing the integrity of the original design or the functionality of the final result. The new spaces and elements required have been crafted into the building with acute precision.
The need to incorporate strengthening and modification of the original fabric for earthquake resistance within the ICOMOS guidelines has also been achieved in a sensitive and harmonious manner. Through the diligent efforts of the design team and the builder working in partnership, special matching bricks were made to restore the facade and replace elements destroyed through later extensions.
The architects have also taken the opportunity to address didactic issues by unveiling and leaving unveiled parts of the original structure and finishes for posterity. Through a combination of refurbishment, reconstruction and conservation, they have achieved a commendable outcome with the reverence demanded by such a commission.
PERTH TOWN HALL REFURBISHMENT
Architect Cox Howlett + Bailey Woodland & Hocking Planning and Architecture. Project architect Cox Howlett + Bailey Woodland. Design architect Cox Howlett + Bailey Woodland: Bret White. Project manager City of Perth: Abe Ashbil. Other project team members Clive Clifford, David Breen, Jenny DeMarchi, Alan Colley. Structural consultant Connell Mott MacDonald. Electrical and lighting consultant Engineering Technology Consultants. Mechanical consultant Bassett Consulting Engineers. Hydraulic consultant SKM CCD. Interior designer Cox Howlett + Bailey Woodland: Gary Giles. Acoustic consultant Herring Storer Acoustics. Quantity consultant Davis Langdon Australia. Builder GEO Esslemont and Son. Original architect Richard Roach Jewell, James Manning. Heritage architect Hocking Planning and Architecture: Ian Hocking, Don Wallace. Theatre consultant Graham Waine. Photographer Graham Sands.