JURY CITATION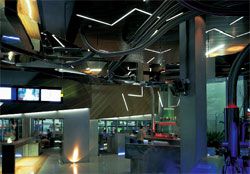 The architects for Transport have sought to redefine the notion of a modern pub to include the experience of the familiar "corner local", while at the same time maintaining the essence of the local's experience.
The RAIA Victorian jury noted, "Of the many interruptions to the Fed. Square forecourt, this one acts cleverly as such. Points of focus from within are distributed to capture the dislocated features beyond; St Paul's Cathedral sits comfortably behind the bar! The resonant context trickles into the mirrored service ducts, lighting configurations, ceilings and acoustic panelling, while the wide ranging patronage appear to be very comfortable as they continue to use the city." ›› The visible keg room, along with the distribution of beer via large spaghetti-like stainless steel pipes, is foremost among many cleverly detailed elements throughout the facility. These also include integrated seating with carpeted footrests and sprays of embedded LED strip lighting.
This pub is very much alive and is fully utilized to its limit of 600 patrons.
Credits
Architect

Maddison Architects
Melbourne, Vic, Australia
Project Team

Drew Carling, Chris Jones, Peter Maddison, Peter Johns, Hillbrand de Smit, Martina Stemmer, Sarah Bryant, John Simmons, Huyen Bui, Elizabeth White, Christophe Leuhi, Christophe Bruekner
Consultants

Builder Leeda Projects
Graphic design Trampoline
Hydraulic, mechanical and electrical consultant Waterman AHW Consulting Engineers (Vic)
Quantity surveyor CP & E
Structural consultant Street Moorhouse

Site Details

Location Melbourne, Vic, Australia

Project Details

Status Built
Category Hospitality, Public / commercial

Client

Client Transit

Related topics