JURY CITATION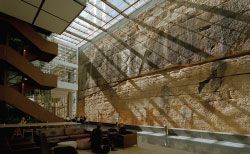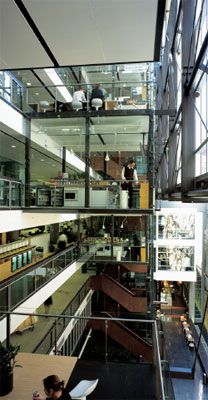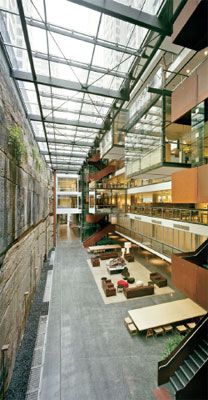 A commendation is awarded to this project for the creative and thorough brief development, the consultation process, the design intentions and the outstanding results.
A multilevel low-rise working environment is arranged across an elongated plan, linked vertically by a glazed atrium inhabited with cafes, meeting rooms, and work and recreation amenity spaces.
The vertical integration of spaces contributes to the working relations of the various groups within the company, and the clusters of work areas within each floor further enhance this concept.
Perimeter zones on each floor have a variety of functions, including both dedicated and informal work areas, which provide happy environments for the pursuit of business.
Good environmental and sustainable design disciplines contribute to a stimulating and creative work place, and the design intentions and framework allow the normal clutter of the individual work point to be easily absorbed within a simple yet dramatic place of work.
This project provides an excellent example of what the office of the future can aspire to.
30 THE BOND
Architect Lend Lease Design, Whittaker Hadenham Openshaw & PTW. Design architect Lend Lease Design: principal architect Ross Bonthorne; design architect Dominic Snellgrove. Project Manager Bovis Lend Lease. Other project team members— documentation architect PTW Architects: director Andrew Andersons; project architect Mark Butler, Noel Samayia. Developer Lend Lease. Structural consultant Lend Lease Design, Arup. Civil consultant Jeff Moulsdale and Associates Electrical consultant Lend Lease Design, Connell Mott McDonald. Mechanical consultant Lend Lease Design, Lincolne Scott Australia. Hydraulic consultant Lend Lease Design, Whipps Woods Consulting. Landscape consultant Oculus Landscape Architecture. Interior designer Whittaker Hadenham Openshaw. Lighting consultant Lend Lease Design. Acoustic consultant Richard Heggie and Associates. Services consultant Lend Lease Design, Warren Smith and Partners. Environmental consultant Advanced Environmental Concepts. Communications consultant The Frame Group. Programming consultant Bovis Lend Lease. Builder Bovis Lend Lease. Community engagement Lend Lease Design. Facade consultant Connell Mott McDonald. Urban design guidelines and conservation architect Tanner Architects. Fire engineering Arup. Security Bell Technology Services. BCA consultants Advanced Building Approvals. Sustainable initiative Bovis Lend Lease Sustainability. Photographer John Gollings, John Marmaras.