ITC SONAR BANGLA HOTEL, CALCUTTA
KERRY HILL ARCHITECTS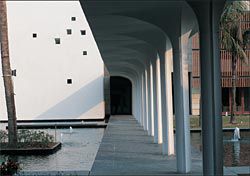 JURY CITATIONA major existing water body forms the heart of this fascinating hotel complex. It moderates the environment and provides opportunities for delicate tea pavilions – tall, lofty, naturally ventilated forms.
A gallery runs the full length of the 120-metre-long water element, connecting all the public spaces.
The experience is structured with three guest blocks, a health club and restaurants. Courtyards and colonnades fragment the rectilinear organization of this complex, and bring daylight and water into a series of enclosed spaces.
GRC screen elements, made in Bengal and pigmented with brick dust, have a rustic feel and contribute to the handcrafted quality of the design. This quality, combined with massive masonry and floating roof elements, develops an interface between tradition and modernity in the establishment of an emergent architecture of Calcutta.
ITC SONAR BANGLA HOTEL, CALCUTTA
Design architect Kerry Hill Architects.
Project architect Kalyan Biswas Architects.
Structural consultant Development Consultants. Electrical and mechanical consultant Meinhardt (Singapore).
Landscape consultant PL Design Company.
Lighting consultant TSLEAG. Acoustic consultant Acviron Acoustics Consultants.
Fire and safety consultant Anthony Yuen.
Kitchen consultant Silber Herthel.
Photographer
Albert Lim.