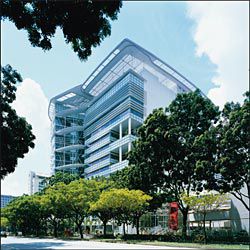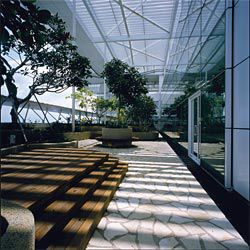 JURY CITATION
This building brings together the arts, heritage and knowledge to create an integrated learning centre and addresses the tropical climate of Singapore with a major green agenda.
Two 16-storey blocks are separated and connected by bridges at upper levels to structure a new public street and plaza to the ground plane of this major institutional complex. The separation of the two blocks, one rectangular and one more free-form, funnels the north-south winds through and into an open plaza. The National Arts Council's Drama Theatre is suspended over a major plaza as a giant shade structure.
This is a complex designed around green principles, with orientation, massive external louvres, light shelves, roof canopies, garden terraces and a fundamental commitment to the penetration of natural light into the internal spaces.
The complex is an elegant white expression of the architects' green craft and is an excellent contribution to responsible architecture.
Credits
Design architect

T. R. Hamzah & Yeang Sdn Bhd

Consultants

Audiovisual consultant CCW Associates
Builder Nishimatsu – Lum Chang JV
Cost consultant Rider Hunt Levett & Bailey
Electrical and mechanical consultant Buro Happold Singapore
Environmental consultant Total Building Performance Team (NUS)
Facade consultant Arup Singapore
IT Ove Arup & Partners
Interior designer Woodhead Wilson
Landscape consultant DLQ Design
Lighting consultant Lighting Planners Associates
Project architect D. P. Architects
Security consultant CCD Australia Consulting
Structural and civil consultant Buro Happold Singapore

Site Details
Project Details

Status Built
Category Public / commercial

Related topics