Beijing Olympic Green Tennis Centre
Bligh Voller Nield in collaboration with CCDI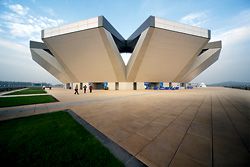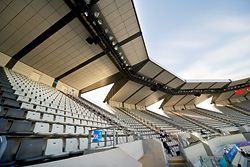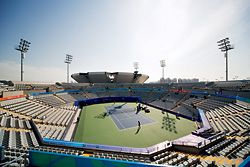 Jury Citation
The new Olympic Tennis Centre is located on a gently sloping western edge of Forest Park, the vast new landscape that terminates the axis of the main Olympic site. The centre piece of the complex is the 17,400-seat stadium, which sits above the terrain like a large opening flower. The balance of the facility is organized around a linear sequence of four giant platforms that step up the sloping park edge and so bring in the surrounding landscape into the site.
There is a clear hierarchical and compositional organization to the site that culminates with the striking profile of the main stadium. The centre court stadium is composed of twelve segmented raking plates separated by tapered openings, which invites vision into the inner bowl. Combined with the dramatic cantilevered roof, this makes for a memorable structure. This is a very formal architectural solution but one delivered with consistency and strength of purpose.

Architect Bligh Voller Nield in collaboration with CCDI—BVN project principals Lawrence Nield, Andrew Cortese; BVN project director Glenn Scott; BVN project team Ross Seymour, Hamish Watt, Namaste Burrell; CCDI project chief architect Zheng Fang; CCDI project architect Lv Qiang; CCDI project team Wu Jiayi, Xu Yue, Xu Dixin; CCDI interior architect Dai Xiling; CCDI landscape architect Zong Fei; CCDI infrastructure Liu Xiaolin.
Building services CCDI.
Structural, civil, mechanical, hydraulic, electrical and communications consultant CCDI.
Project manager CCDI.
Builder CSCEC.
Photographer John Gollings.