JURY CITATION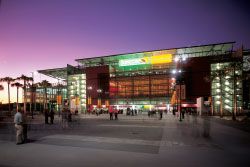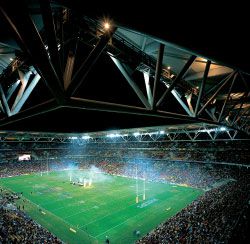 A commendation is made for the design of the home of Rugby League and Rugby Union in Brisbane commonly called "The Cauldron" or Suncorp Stadium.
A challenging inner city site posed significant urban design issues, with the existing rugby grounds and grandstand being redeveloped and reused. Extensive analysis of the functional requirements of a stadium to seat 52,000 people, together with the logistics of access to the stadium and people management within an existing community, meant that extensive consultation was part of the design process.
Direct pedestrian linkages to public transport provide a highly efficient and pleasurable experience for patrons. Large plazas interface the stadium with the city fabric and a clear planning rationale for the stadium, together with recognition of both climatic and environmental issues, has resulted in an architecture appropriate to the region and one that generates drama appropriate to the events.
The excellent articulation of the building elevations breaks the bulk of a large building and provides a grain that works well within the urban design concept.
SUNCORP STADIUM
Architect HOK Sport+Venue+Event & PDT Architects. Project and design architect HOK Sport+Venue+Event & PDT Architects. Project manager Project Services (Qld Gov). Other project team members Alan Patching. Structural and civil consultant Arup. Electrical consultant Connell Mott MacDonald, John Goss Electrical. Mechanical consultant Connell Mott MacDonald, Triple M Mechanical Services, Sinclair Knight Merz. Hydraulic consultant McWilliam Consulting Engineers, Fairfield Plumbing, Connell Mott MacDonald. Landscape consultant EDAW Gillespies, Wilson Landscape Architects. Lighting consultant Connell Mott MacDonald, John Goss Electrical, Thorn Sports Lighting, Sinclair Knight Merz, Norman Disney and Young. Acoustic consultant Bassett Acoustics, Hyder Consulting (Australia). Programming consultant RCP. Builder Lang Park Redevelopment Joint Venture – Mulitplex and Watpac Construction. Transport engineer Queensland Transport, Sinclair Knight Merz, Arup. Environmental consultant Sinclair Knight Merz. Quantity consultant Davis Langdon Australia. Communication consultant Flack and Kurtz, Sinclair Knight Merz, GHD Group. Community liaison Elliott Whiteing and Assoc. Catering consultant Mike Driscall and Assoc. Pitch consultant Arup, Young Consulting Engineers (post tender). Fire engineer Lincolne Scott Consulting. Heritage architect Allom Lovell Architects. Access consultant John Deshon Architect. Way finding and signage Dot Dash. Building certifier Project Services (Qld Gov). Photographer Patrick Bingham Hall.