JURY CITATION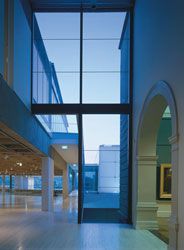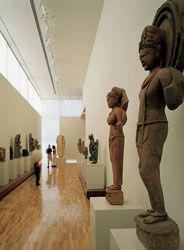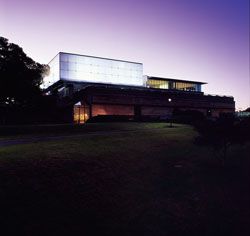 The new Asian Galleries have regenerated the Art Gallery of New South Wales. The new spaces – including temporary exhibition space, restaurant and function areas – have had a positive impact on the function of the gallery and visitor access to the Asian collection. As the RAIA state jury noted, the project, "with its iconic lantern-like box grafted onto the south-east corner, succeeds brilliantly in completing the gallery complex and also gives the institution a new identity and presence in the city." ›› The new spaces have been planned to relate to and exploit the strong character of the existing gallery and to add an Asian sensibility with careful attention to the experience of space, sequence, views, vistas and filtered light.
The Art Gallery of New South Wales plays an important role in the state's cultural and architectural heritage. Designed by Walter Liberty Vernon in 1904 with extensions in the last thirty years by Andrew Andersons, it is listed on the Register of the National Estate.
The building was designed to be seen in the round and its external resolution is critical.
The Johnson Pilton Walker extensions sit entirely on and within the existing footprint and enhance the gallery experience. The external form exploits the existing stepped sandstone building plateau and provides a new focus and identity for the gallery from the east.
While representing the significance of Asian art, the glass lantern plays the role of a light and beacon and is an ephemeral counterpoint to Vernon's classic sandstone building.
The architects have demonstrated a considered understanding of the needs of the gallery and have created well-placed and unique spaces, allowing for different exhibition and curatorial requirements.
Credits
Architect

Johnson Pilton Walker
Sydney, NSW, Australia
Project Team

Richard Johnson, James Casserly, Graeme Dix, Richard Tam, Belinda Chan, Wayne Dickerson, Gerard Reinmuth
Consultants

Acoustic consultant Arup Acoustic
Builder St Hilliers Contracting
Communications consultant Steensen Varming
Electrical and mechanical consultant Steensen Varming
Exhibition designer Freeman Ryan Design
Facade consultant Arup Facade Engineering
Fire engineering Arup Fire Engineering, Trevor Howse & Associates
Heritage consultant Tanner Architects
Hydraulic consultant Warren Smith & Partners
Landscape consultant Johnson Pilton Walker
Lighting consultant Steensen Varming
Original architect Walter Liberty Vernon, Andrew Andersons
Project manager Root Projects Australia—Peter Root
Quantity surveyor Aquenta Consulting (formerly Currie & Brown)
Restaurant consultant Luigi Roselli Architects, Bill MacMahon Architects
Structural consultant Arup Sydney

Site Details

Location Sydney, NSW, Australia

Project Details

Status Built
Category Public / commercial

Related topics