Jury Citation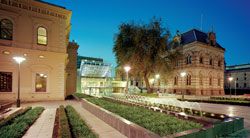 The State Library of South Australia redevelopment is a skilful resolution of many layers of issues and problems that have accumulated over time. The new work has improved the facilities, services and spaces within the Institute and has brought together the three existing buildings so that they retain their own character and yet function seamlessly as one complex. The redevelopment has contributed to the heritage value of the existing buildings and has created a significant impact on Adelaide's cultural boulevard, North Terrace.
The most notable architectural piece, the glazed entry foyer, creates a strong identity.
It links the Institute, Mortlock and Spence Wings for the first time and presents a primary address to North Terrace. The foyer, filled with natural light during the day, is a light-filled lantern in the evening hours, presenting visual access to the interior.
Architecturally, the three buildings that comprise the State Library have been given a new life. Firstly, through heritage-conscious refurbishment of the nineteenth-century Institute and Mortlock Wings, and secondly, through the remodelling of wall and roof elements of the 1960s Spence Wing to provide daylight to the interior spaces and visual connection to the surrounding historic precinct.
The removal of recent additions to the heritage buildings revealed lost details and allowed the architects to return the buildings to their original condition.
The project has created a new modern study environment and administrative areas as well as an information and communications centre to improve access to the vast collection of important public data.
Credits
Architect

MGT Canberra Architects

Project Team

Harold Guida, Birgit Stroeher, David Hassell, Sieglinde Whittle, Birgit Stroeher, Jonathon Ash, Michael Pearce, Terry Suey, Tim Halden Brown, David Antcliff, Doug Brooks, Justine Cox, Michael Komancki, Fiona Lynch, Paul Nihill, Robert Patat, Stephanie Jimko, Shoba Thiruchelvam
Architect

Hassell Adelaide
Adelaide, SA, Australia
Consultants

Acoustic consultant Bassett Consulting Engineers
Art consultant Pamile Berg
Artist Kay Lawrence, Ernabella Arts Inc—Pantjiti McKenzie
Disability consultant Disability Consultancy Services
Electrical and mechanical consultant Bassett Consulting Engineers
Exhibition designer Bannyan Wood
Facade consultant Hyder Consulting
Graphic design John Nowland
Heritage architect Weidenhofer Architects
Hydraulic consultant Connell Mott MacDonald
Interior designer MGT Canberra Architects, Hassell
Landscape consultant Hassell Adelaide
Managing contractor Built Environs
Project manager DAIS—Bryon Andretzke
Quantity surveyor Rider Hunt
Services consultant Bassett Consulting Engineers
Storage consultant MoveCorp
Structural and civil consultant Wallbridge & Gilbert

Site Details

Location Adelaide, SA, Australia

Project Details

Status Built
Category Public / commercial

Related topics