JURY CITATION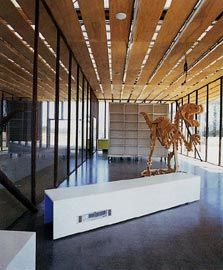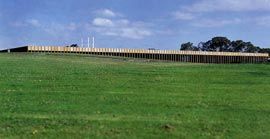 Sean Godsell's Science Building for Woodleigh School in Victoria is designed as an inspiring place of learning.
As well as housing five classrooms and a commonly accessible preparation laboratory, it contains a separate project display space. This space allows students to display their projects and hold demonstrations of their work.
Instead of being housed within the body of the main building, the large display room is prominently located at the end of the building. The large steel pivot entry door into this space adds to the sense importance and achievement associated with this space.
Godsell's building avoids the use of closed corridors, but at the same time successfully manages to provide shelter and security for the students through a covered walkway formed by the building's east and west perimeter composite columns, which also act as sunshading devices.
The architectural expression of the building and its skeletal-like form of timber fins on oxidised steel columns appear as a deliberate analogy to biological science and suggest a protective environment for the students. The elongated form of the building also defines a new outdoor space in the school in a subtle interpretation of the traditional quadrangle model.
Project Credits
WOODLEIGH SCHOOL SCIENCE BUILDING, VIC
Architect Sean Godsell Architects—project teamSean Godsell, Hayley Franklin. Structural and civil consultant JMP. Electrical, mechanical and hydraulic consultant Simpson Kotzman. Landscape Sean Godsell Architects. Quality consultant Slattery (Aust). Builder Kane Constructions. Building surveyor Wilsmore Consulting. Photographer Hayley Franklin.