Jury Verdict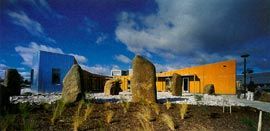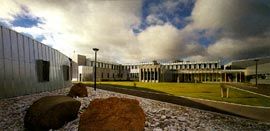 This project refocuses a previously unremarkable campus, giving it two lowscale buildings of great quality and presence.
Positioned at an entry to the Newnham campus, they work well together, setting up a dynamic tension through a variety of outdoor spaces and pedestrian pathways. The use of facade materials, principally steel and zinc contrasted with concrete panels, is particularly well handled.
The Faculty of Arts Building is finely designed and detailed to offer generous public and private spaces and a pleasant sense of easy visual connectivity with the landscape.
Clearly articulated circulation routes, and fenestration that enables the easy modification of internal walls, will allow this project to avoid recurring the difficulties which often face academic buildings.
The adjacent Riawunna Aboriginal Education Centre has a casually domestic scale which derives from and enhances the users' brief. It walks a careful and ultimately successful line of architectural narrative, avoiding both cliche and subversion to political intent. Curving around a landscaped meeting place, the building acknowledges its place in the wider campus while establishing its own different identity. The users quite clearly love it. The architecture is rich, subtle and well crafted.
These gentle, thoughtful buildings, derived from a real concern for the occupants' wellbeing, herald new life and direction. They are an intelligent, understated beginning to a new vision for the existing campus.
Project Credits
Faculty of Arts Precinct, University of Tasmania, Launceston

Project Architect Rob Trinca, Robert Troup. Design Architect Peter Elliott. Administration John Lewis.
Project Team Members Helen Day, Simon Scillio, Sarah Drofenik. Structural Consultant, Civil Consultant, Electrical Consultant, Mechanical Consultant, Hydraulic Consultant Ove Arup + Partners. Landscape Architect Urban Initiatives.
Lighting Consultant, Audio Visual Consultant Space Age Communications. Quantity Surveyor Wilde and Woollard. Irrigation Tenbuuren Irrigation Designs. Builder Fairbrother. Photographer John Gollings.