Jury Verdict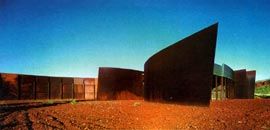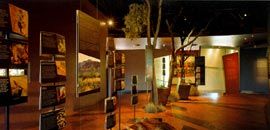 The Visitor Centre in Karijini National Park in the Pilbara is set in one of Australia's most extraordinary landscapes. This is iron ore country, where curious black shards of metal lie all around and give a startling intensity to the cliff faces. Softly rounded mauve hills appear slashed by lines of black and deep red ochre.
The Visitor Centre is so well integrated into the landscape of this place that it is possible to miss it. This is not because it is a selfeffacing building, hiding or not wanting to be seen. It is because its form is so confident in engaging with the inherent strength of the landscape. The building is made of an assembly of freestanding, overlapping, preweathered steel wall panels of the same deep red-black as the gorges, the silken iron pebbles, and the slashed hills.
The building holds an interpretative exhibition that serves as an introduction to the people, their history and landscape.
Visitors enter through glass doors between the steel walls. The spaces flow informally, leading through the exhibition area to the theatrette, shop and information centre.
Wide glazed strips at breaks between panels establish a strong engagement between the visitor and the immediate landscape.
Project Credits
Karijini National Park Visitor Centre
Project Architect John Nichols, Craig Forman, Martin Neilan, Karl Woolfitt. Developer Pilbara Development Commission. Structural Consultant Connell Wagner. Electrical Consultant, Lighting Consultant BCA Consultants. Hydraulic Consultant Hutchinson Associates. Landscape Architect CALM. Interior Designer Woodhead International BDH. Acoustic Consultant Herring Storer Acoustics. Quantity Surveyor WT Partnership.
Display Design David Lancashire Design. Builder Wylie & Skene. Photography John Gollings.