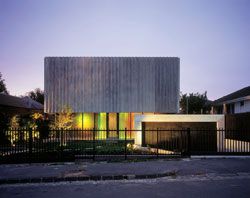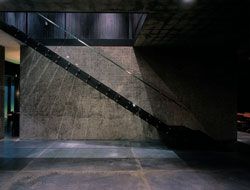 JURY CITATION
A politically important building and a mature work from these pugnacious Melbourne architects, the Barro House excitingly confronts the issue of contextualism in the Melbourne suburban streetscape, adding an uncompromised design of high architectural integrity to the diversity.
Using a bold and clear expression of featured precast concrete and glass, the form has a logic in the street and adds a richness to the neighbourhood.
The scalloped profile of the upper-storey concrete facade responds to differing light conditions by casting changing shadows on itself, creating a softness not normally associated with the material.
The interior planning is free of constraint, with a hierarchy of spaces revolving around a central staircase. Along with the volumetric excitement of the staircase void, the minimalist palette of natural concrete, dark-stained moulded timber linings and bright orange ceramic tiles has created an atmosphere of pure delight.
Project Credits
BARRO HOUSE
Architect Wood Marsh.
Structural consultant Gillon Consulting Group.
Mechanical consultant Airflow Design. Fireplace consultant Kenneth Innes Irons. Hydraulic consultant Klease Consulting.
Builder Building Makers.
Photographer Peter Bennetts.