Jury Verdict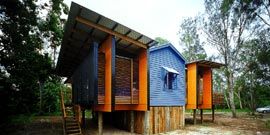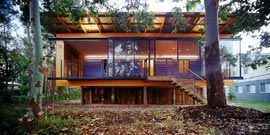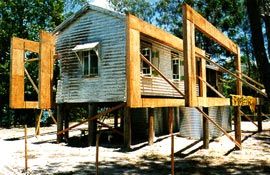 The success of this small house lies in the way in which an existing holiday cottage has been sandwiched between two independently supported pavilions. The two pavilions, resting above the ground in propped plywood "hoops", are beautifully light and open, contrasting with the weatherboard clad original cottage.
Internally, the spaces are ingeniously linked without compromising the integrity of the cottage.
The architects' decision to retain the core of the earlier timber cottage on the river's edge demonstrates the richness that is possible through the integration of extant built form with contemporary attitudes to light, space and openness. The inventive structure and detailing convert a clever planning strategy into a relaxed home of considerable poetry and delight, within a budget that the average Australian will comprehend.
Project Credits
Open to River…
Project Architect, Design Architect Thierry Lacoste, David Stevenson. Developer Peter and Lynnette Brown. Structural Consultant Simpson Design Associates. Lighting Consultant Lacoste + Stevenson. Builder R. R. & L. J. Scholes Construction. Photographer Brett Boardman.