Jury Verdict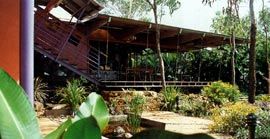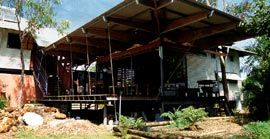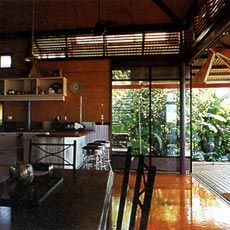 The Johnson – Kroon House is made for its place in the sun. A set of three steel framed timber clad pavilions are placed to edge a garden and angled to catch both the breezes and the breathtaking views across a vast valley. This house is in Palmerston, a new subdivision on the outskirts of Darwin.
In the intense heat, its neighbours are closed against the elements and their exterior walls are lined with air-conditioning units, one for each interior room. In contrast the Johnson – Kroon House is sited at 45 degrees to the street. A lush tropical garden forms the introduction to the pavilions, where timber louvres direct breezes around the spaces. The spaces are so carefully made by the placement of the pavilions that they hardly read as a house at all, but more as a series of roofed platforms that meet all the pleasurable and practical requirements of a house while bending to few of the rules.
This house could be replicated across Darwin to offer a housing type that uses minimal energy while benefiting from the city's climate and offering an imaginative stage for Territorian living.
Project Credits
Johnson – Kroon Residence, NT
Project Architect Greg McNamara. Design Architect Greg McNamara, Peter Fletcher.
Developer Peter Johnson, Debra Kroon. Structural Consultant Colless and O'Neill. Hydraulic Consultant Leamac Drafting. Quantity Surveyor Rawlinsons. Builder Peter Johnson. Photographer Greg McNamara, Peter Fletcher.