JURY CITATION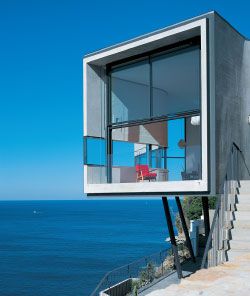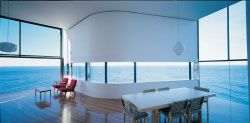 An understated, low-profile street presence intentionally contrasts with the dramatic, cinematic revealing of the vast ocean presence over which House Holman presides.
This single-family house in Dover Heights is comprised of two overlapping forms. The curvaceous upper level form is propped off the cliff face and sited to capture the portraits of the vertical cliff views to the north and south, while the expansive ocean horizon to the east is further dramatized by the compressed horizontal landscapelike aperture.
The more earth-bound understorey form weaves its way into the landscape journey, which winds across the cliff face reminiscent of aged Mediterranean paths. This settled by-time quality is no accident – the design team have carefully retained and replanted the various plant species that have been thriving in this highly exposed cliff face setting. The overall result of this highly accomplished project is a loose but very comfortable fit with the landscape, and a commanding treatment of the Pacific Ocean which leaves the senses beguiled.
HOUSE HOLMAN
Architect Durbach Block Architects. Project architect David Jaggers. Design architect Neil Durbach, Camilla Block, David Jaggers, Lisa Levan, Joe Grech, Adrian Gessner. Structural consultant Baigents: Prof. Robert Herbertson. Hydraulic consultant Accor Consultants. Landscape consultant Jane Irwin Landscape Architects. Interior designer Durback Block Architects. Lighting consultant Durbach Block Architects. Environmental consultant AEC. Quantity consultant Page Kirkland. Builder LH Building Services: Jon Adamson, Rob Laycock. Photographer Brett Boardman.