JURY CITATION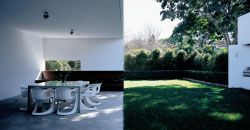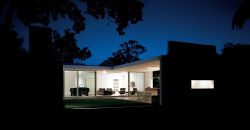 This elegant and restrained addition to the rear of an Art Deco house in Brisbane explores the potential of the suburban backyard as a contemporary living space. The architects have taken their formal cues from the modest, carefully detailed existing house to create two generous and expansive rooms – one inside and one outside. These open up directly from the more intimate spaces of the Art Deco house.
The new work has been composed with a great deal of care. It is organized on the site to generate a modulated suite of living spaces in both the house and the garden, which take full advantage of the opportunities for relaxed living that Brisbane's climate offers.
NEWMARKET HOUSE
Architect Owen and Vokes. Design architect Paul Owen, Stuart Vokes. Other project team members Aaron Peters. Structural consultant Farr Engineers Associates. Hydraulic consultant H Design. Interior designer Paul Owen, Stuart Vokes. Lighting consultant Owen and Vokes. Builder Carbines Constructions. Photographer Jon Linkins.