JURY CITATION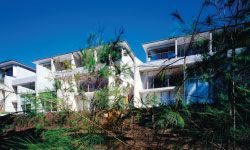 The Canopy Apartments are an elegant medium-density development on Sydney's North Shore. The beautifully crafted project draws on the Paddington terrace type and is a direct response to the steep topography of its urban bushland site, adjacent to a busy arterial road. The apartments engage the site sensitively and present a modest presence at the street level. Stepping down the site, they are massed to provide view corridors from the street through to the bush. These fissures also provide residents with direct access to the bushland and the private realm, as well as admirably preserving the leafy character of Cammeray.
The terrace typology offers openplan living and individual privacy, while taking full advantage of views to the north. The project's northerly aspect, its massive construction, and the provision of cross-ventilation and easterly and westerly protection, all add to the comfort that this scheme offers through natural means. The collection and storage of rainwater for irrigation purposes reinforces the environmental sensitivity of the project.
The simplicity of the concept and the consistency of exquisite detailing, together with the restrained palette, contribute to this project's visual delight for the passers-by and the inhabitants, who all enjoy optimum privacy as well as unimpeded bush views.
Credits
Architect

Alex Popov Architects

Project Team

Alex Popov, Brian Bass, Shayne Evans
Consultants

Builder Bellevarde

Site details

Location Sydney, NSW, Australia
Category Residential buildings

Project Details

Status Built

Related topics