JURY CITATION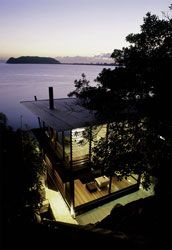 The brief for this home on a steep slope on the western foreshores of Pittwater was to provide a couple with a permanent home separating guests, living and working spaces, and also providing a completely separate building up the hill for a master bedroom retreat. Outdoor spaces were to merge with indoor spaces while maintaining privacy from neighbours. The result is three finely detailed and carefully crafted glass and steel pavilions.
The architect has brought his intimate knowledge of local microclimate and topography together to create a home that is building and landscape combined. Exceptional design allows the open pavilions to capture sea breezes and filter sun through copper hoods, mechanical blinds and eaves. The architect has used a simple palette of materials – glass, copper, steel, timber and stone – and a modest footprint, which are skilfully combined to create buildings with a poetic balance between presence and transparency.
Project Credits
JAMES ROBERTSON HOUSE, PITTWATER
Architect Dawson Brown Architecture—principal architect Robert Brown; project architects Aaron Cook, Hernan Alvarez. Civil consultant Murtagh Bond Structures Buro.
Quantity consultant D. R.
Lawson. Interior designer Caroline Casey Design.
Landscape consultant Bangalley Earth and Waterscapes.
Builder Bellevarde Constructions. Photographers Patrick Bingham-Hall, Anthony Browell.