JURY CITATION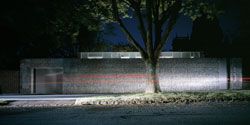 Located within a highly prized heritage streetscape, this cleverly articulated house sits behind a textural gabion wall, which acts as a bridging element between the traditional masonry walls present in the street and the contemporary idiom of the new house.
The house confidently acknowledges the requirements of the occupants by providing a minimal background for their extensive artefact collection against a sensitive progression of spaces.
The plan is organized around a central brick core with solid walls which "bookend" the glass wall facing the street. The split in level enhances the relationship of the interior to the external courtyard, with low ground level windows introduced in the study and bathroom. The considered use of highlight glazing provides the opportunity to visually connect with the existing advanced vegetation of neighbouring gardens, street trees and the grand, towered neighbours. 
Related topics