JURY CITATION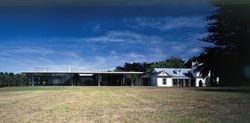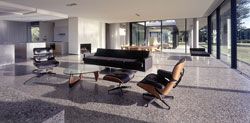 This new pavilion addition on Phillip Island has been designed as a companion structure to the 1876 heritage Woolamai Homestead.
Located adjacent to, but back from, the alignment of the existing homestead, it allows the homestead to dominate the setting and approach.
With the new pavilion the architect has pursued a rigorous and engaging contrast with the historic house. While working in an established modernist vocabulary, this house is exemplary in its restraint and exhilarating in its scale and simplicity. Only three spaces allow for eating, sleeping and washing, but they are nonetheless some of the most gracious living spaces ever built in Australia. It is a technically innovative concrete building with a [nobr]post-stressed[/nobr], dynamic slab roof and glass walls floating in thermal expansion channels.
It has a clarity and confidence, yet modestly hugs the ground so as not to dominate its historic neighbour.
Project Credits
WOOLAMAI HOUSE
Architect Robert Simeoni Architects—design architect, project architect Robert Simeoni; project team Michael Kemp, Robert Kolak. Structural consultant Bonacci Group.
Mechanical engineers Fryda Dorne and Associates, Apex Air. Building surveyor Thomas Nicolas.
Photographers Trevor Mein, John Gollings.