BANGALAY
STUTCHBURY & PAPE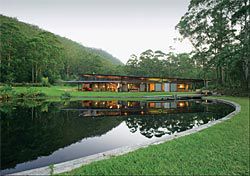 JURY CITATIONLocated in a magnificent rural valley, this ground-hugging pavilion connects with and reinforces the drama of its setting.
Long, low and transparent, with a seamless transition between indoors and out, this country retreat demonstrates the joy of intelligent, reductive architecture.
The plan is direct yet finely honed, with occupied spaces on the north face and servant spaces along a south spine. Sliding screens allows the house to be opened up to the landscape beyond, giving the sense of an elegant tent. A simple skillion roof hangs over the house, tilting up towards the east to allow views out to the surrounding escarpment.
Verandas cantilever to provide a strong connection to the landscape beyond, while a central covered courtyard gives focus to the living spaces.
A direct expression of assembly is achieved through the ordered timber frame, plywood ceilings and delicate and well-integrated glazed screens. This spare palette of materials is enhanced by the limited use of concrete and galvanized ripple iron cladding.
The house is thoughtfully designed to minimize energy use and maximize comfort and the property is wholly self-sufficient.
This house celebrates site, engages the landscape and is a demonstration of the real value of responsive, human-centred and uncomplicated architecture.
BANGALAY
Architect Stutchbury & Pape—project architect Peter J Stutchbury; project team Marika Jarv. Structural consultant Structural Mechanics and Dynamics— Professor Max Irvine. Landscape consultant Stutchbury & Pape—Phoebe Pape. Builder Tony Lake Constructions. Photographer Michael Nicholson.