JURY CITATION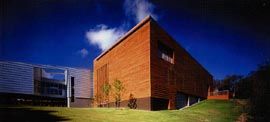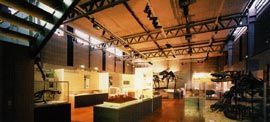 The Monash Science Centre delivers a viable and costeffective approach to a broad ecologically sustainable design agenda that was specifically developed by the university and the architects.
It was important for the project to address a long menu of environmental issues within the constraints of a typical educational construction budget. This has been achieved admirably. Measures taken are numerous. They include: sun shading, manual and automatic ventilation control, thermal chimney effects and reverse fan controls. Daylight is glare-controlled using highlights and light shelves. The large area of wooden flooring conceals hydronic geothermal heating, using the nearby lake as a heat source/sink.
The building is elevated so that there is both minimal site disturbance and visual access to the underside for study.
The exhibition hall exterior uses a breathing timber cladding or "rain screen" mounted over a membrane-clad substrate, with contrasting zincalume lining over the teaching wing.
The exhibition hall, teaching wing and circulation spaces are available to, and transparent to the visiting public (mainly primary and secondary school students), who come to interact with the exhibits and join information sessions.
Project Credits
MONASH SCIENCE CENTRE
Architect Williams Boag Architects—project teamPeter Williams, David Tweedie, Bruce Davis, Tim Lang, Andrew Croxon, Philip Brady, Trang Vu.
Structural and civil consultant Kuter Consulting Engineers. Electrical and mechanical consultant Bassett Kuttner Collins. Hydraulic consultant C. R. Knight and Associates. Landscape consultant Plant Design. Environmental consultant Scott Wilson Irwin Johnson. Quantity consultant Donald Cant Watts Corke. Builder Kane Constructions.
Building surveyor Peter Luzinat and Partners. Photographer Archiphoto.