JURY CITATION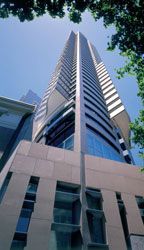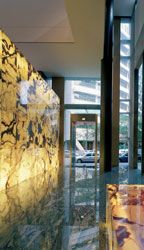 The RAIA NSW jury stated that, "The Cove Apartments is a project of exceptional conceptual clarity and architectural maturity.
Located on an impossibly confined site in The Rocks, this major residential project demonstrates the potential of a modern tower within an historic precinct. The project is a masterful intersection of street buildings, communal facilities, retained buildings, public lane and a residential tower." ›› At a national level, this project is commended for its masterly urban resolution.
The new street facades, while clearly contemporary, adopt a sympathetic light sandstone colour and use a vertical system of glass that predominates in the historic streetscape. The new facade respectfully acknowledges the church hall in Gloucester Street, while a 27-metre-high entrance space to Harrington Street allows dramatic through-site glimpses.
The public pedestrian link is a memorable experience, with its steel mesh stairs lit from below and glass beam bridges that span between new and old buildings. Lifting the residential tower away from the base and providing glazed roofs to the podium optimizes daylight to the deep street spaces. This project, although clearly in a privileged environment, has a rare generosity and inclusiveness within the streetscape of The Rocks.
Project Credits
COVE APARTMENTS
Architect Harry Seidler & Associates. Structural consultant Meinhardt (NSW).
Electrical security and mechanical consultant Waterman AHW Consulting Engineers. Hydraulic consultant D P Consulting.
Lifts Norman Disney Young.
Lighting consultant Harry Seidler & Associates. Quantity consultant Rider Hunt Sydney.
Builder Grocon Constructors.
Swimming pool ThomsonKane Watercyclists.
Certifying authority Dix Gardner. Heritage architect John Graham & Associates.
Photographer Eric Sierins, Max Dupain & Associates.