JURY CITATION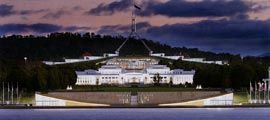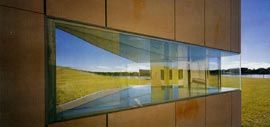 Commonwealth Place in Canberra, built on a prestigious site at the edge of Lake Burley Griffin, is a careful and sensitive insertion into the environment. The dominant dish form enhances the views of Old and New Parliament Houses from across the lake. At the same time, it opens up the lake's shore for use as public space.
Conceived as a new urban space, the subtle design of the precinct falls somewhere between building and landscape.
The split dish of turf operates well as a gathering space for small or large crowds and is bordered by a sensuous stone wall. The heaviness of this wall is beautifully modified by the insertion of both natural and artificial light into pockets and cavities.
Durbach Block has worked extremely well within the strict heritage requirements and public sensitivity of the site. The insertion of commercial interests into the building has been handled in such a way as to render them almost invisible, but without depriving those spaces of natural light and views across the lake.
Project Credits
COMMONWEALTH PLACE, CANBERRA
Architect Durbach Block Architects. Documentation (20%) Collard Clarke Jackson. Project manager, structural and civil consultant Weathered Howe. Electrical, mechanical, hydraulic and environmental consultant Norman Disney and Young. Landscape architect Sue Barnsley Design. Lighting consultant JR Design.
Quantity surveyor Page Kirkland and Lorimer. Glass artwork subcontractor Flash. Builder Manteena. Photographer Anthony Browell (top), John Gollings (centre and bottom).