Jury Verdict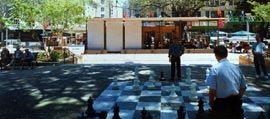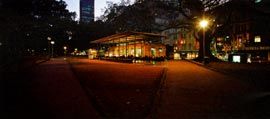 This modest project resolves the adaptive re-use of a heritage structure through the architectural tactic of built form as urban furniture. The obsolete toilet block has been reinvented as a clever cafe, edging a park and adjacent to a busy station.
The new program has been carefully resolved by embedding a kitchen inside the old facilities and floating a light roof over an implied linear space. This space has been carefully crafted to engage with the park setting and benevolent climatic aspect. The building has a great sense of civic openness and informality within a Beaux-Arts landscape setting.
Project Credits
St James Station Environs, Sydney
Project Architect Andrew Nimmo. Design Architect Annabel Lahz and Andrew Nimmo with City Projects. Project Manager Marcia Aqui, City Projects. Project Team Members Tim Horton, Garry Bowen. Developer City Projects, City of Sydney. Structural Consultant Paterson Wholohan Grill. Civil Consultant, Hydraulic Consultant ACOR Consultants. Electrical Consultant Vince Cariola and Associates.
Landscape Architect Oculus. Interior Designer Lahz Nimmo Architects, tenant. Lighting Design Lahz Nimmo Architects, Vince Cariola and Associates. Quantity Surveyor Cave and Associates. Contractor Les Moore Projects.
Heritage Consultant Edmund BeBee. Original Architect Albert A. Smillie. Photographer Brett Boardman.