Sydney practices Sissons Architects and Kann Finch have designed a building for Macquarie University that will see university-related and commercially leased office, laboratory and collaboration spaces brought together under one distinctive roof.
The project at 8-12 University Avenue in Macquarie Park will be sited across two development parcels bisected by a diagonal pedestrian link that connects the Cochlear headquarters to the south to a future University Common to the north, to be designed by Aspect Studios. The site is located at the nexus of the university's commercial and academic precincts.
The complex will consist of five distinct building elements to be arranged, and split, around a central "galleria" and atrium space, with open-plan commercial offices across six levels sharing this communal space with the wider campus.
The galleria is conceived as an informal meeting space, populated with seating and cafes open at ground level to create a permeable building. A "view corridor," a void that reaches all the way up to the roof, will bisect the building, creating a clear passageway from north to south "through, under and amongst the architecture."
"With the site located in a unique position between the educational and commercial precinct of the university, it presents the opportunity to unite the different precincts, bridging their common requirements and goals," reads a design statement from the architects.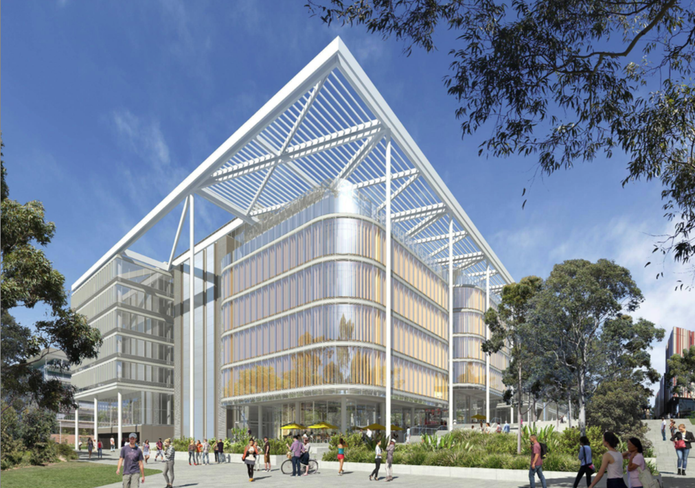 "Within the wider campus, the project's location also marks the gateway to the pedestrian-focused academic precinct and will seek to reinforce and enhance the pattern of the existing public transport infrastructure."
At the north-east corner of the complex, facing onto the University Common, will be a pair of sculptural "drum" elements.
"Architecturally these form are a response to the public domain, giving the building a bold identity," state the architects. "Functionally they are the heart of the building – housing the collaboration spaces, they are a physical embodiment of the vision to bring academia and enterprise together."
The selection of facade materials and colour palette references both the unique bushland setting of Macquarie Park and design cues from existing campus buildings. The solid facade elements reflect the off-form concrete aesthetic found throughout the campus as a feature of several buildings by architect and town planner Walter Abraham, who designed the university's campus layout and oversaw the first two decades of its development.
Key to the project's design is the unifying roof form, which the architects describe as "a strong compositional element that gives the building a presence within the campus."
Aspect Studios is the project's landscape architect.
While there will be commercially leased office and laboratory spaces in the building, the majority of the office space will be university-related and will be able to be flexibly used for academic and teaching purposes.
The design is currently before the NSW planning and environment department and will be on public exhibition until 22 February.