Harry Seidler Award for Commercial Architecture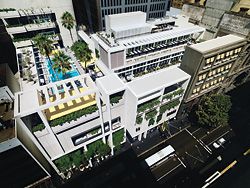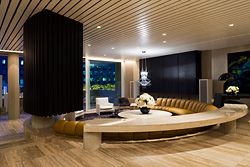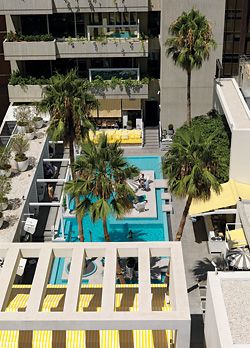 Ivy
Woods Bagot with Merivale Group and Hecker Phelan & Guthrie

JURY CITATION
The popular palaces of culture have, in recent years, rarely presented themselves as high architecture. Ivy is a remarkable exception.
The allowable floor space for the project could have been used for a tower, but the client opted instead for six levels of food, drink, hospitality and a darn good time in a fashionable setting.
As a result, George Street has been given a new set of considered facades, with both a grand scale (related to the street's heritage features) and hints of relaxed informality, suggested by random openings brimming over with tropical vegetation. Here, and within, the lush, confident 1960s US architecture of Paul Rudolph and John Lautner is recalled.
Ash Street and Palings Lane have become vibrant pedestrian thoroughfares, lined with shops, bars and cafes. This new urban hub gives access to both the existing City Recital Hall and the two Ivy facilities.
Ivy contains stylish courtyards fringed by bars and restaurants. A variety of levels and spaces – including a grand ballroom and a rooftop swimming pool with cabanas – provide settings enjoyed by all, from metrosexual youths to mature Mae Wests. It is perhaps Australia's finest stage set, realized in a sophisticated, permanent and architectural way.
Every aspect – from food and bar service to public entertainment egress and head office space for Merivale – has been considered and resolved, and speaks volumes of the commitment of the project team.
Ivy forms a natural mecca for those of youthful image and lively aspirations, and its consciously random bars, retreats and cabanas placed around spacious courtyards provide the sense of an oasis within the concrete desert of this part of central Sydney.

Architect
Woods Bagot with Merivale Group and Hecker Phelan & Guthrie—collaborative client Justin Hemmes CEO, Bettina Hemmes, Angela Muller (Merivale Group); design architect Nik Karalis, Domenic Alvaro, Wade Little, Ivan Kokrhelj, Greg Harper, Ralph Sondgen (WB); interior design Paul Hecker, Hugh Lane, Kerry Phelan (HPG)

Brand and signage
Cornwell Design

Services consultant
Norman Disney & Young

Lighting consultant
D. J. Coalition

Landscape consultant
360 Degrees

Builder
Lucas Stuart

Project manager
Cavestock Group

Joinery contractor
Karisma

Mechanical engineer
Whiffen & Andrews

Structural engineer
Enstruct

Photographer
Trevor Mein
National Award for Commercial Architecture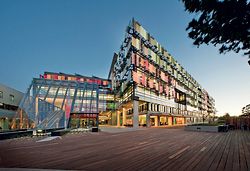 Bendigo Bank Headquarters
BVN Architecture and Gray Puksand

JURY CITATION
Bendigo has arguably the finest High Victorian townscape in Australia. Its main streets are lined with imposing buildings – the Law Courts, the Town Hall, the Shamrock Hotel – and elaborate parks and gardens. Across from the intersection centred on the Alexandra Fountain, the Bendigo Bank secured a large site, its first holding a relatively innocuous low-rise commercial building. Behind this a large six-level building has been developed (in stages) along a central pedestrian spine, with work bays and top-lit atriums to each side.
The main entry is offset from the Alexandra Fountain intersection and the axis of the main street, and will, in due course, be screened by a wall of trees. The jury felt that the angled glazing and the circulation pattern of the entry area were not entirely successful. The Bendigo Bank Headquarters' strengths include: vibrant medium-rise articulated elevations, sunshaded where appropriate, which sit comfortably within the context of historic Bendigo; contributory scale, rhythm and character, and integrated ground-floor retail, which has upgraded and enhanced the length of Bath Lane to the south-east; and excellent open-plan workplace interiors, with "office community" facilities centred on the atriums and outdoor breakout spaces, both facilitating the entry of natural light into the interiors.
The Bendigo Bank Headquarters building is a remarkable addition to a major regional city, a first-quality workplace and an imposing yet discreet addition to an outstanding historic precinct.

Architect
BVN Architecture and Gray Puksand—project director Bill Dowser (BVN), Nik Tabain (GP); design team leader Sharon Francis (BVN); project architect (documentation and delivery) John Pinkerton (GP); project architect (documentation) Peter Richards (BVN); project review Jane Williams (BVN); project team John Van Gemert (BVN); architect John Lucy, Aleksander Borek; CAD technician Damian Gray

Landscape consultant
Landarche

Structural, civil, mechanical, electrical, fire, hydraulics, security and lifts engineer
Meinhardt

Environmental consultant
Connell Wagner

Communications consultant
IPP Consulting

Lighting consultant
Vision Lighting

Building surveyor
McKenzie Group

Project manager
Gallagher Jeffs

Builder
ProBuild

Photographer
John Gollings, Dianna Snape
National Award for Commercial Architecture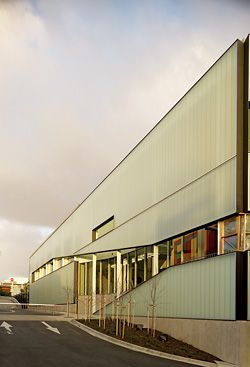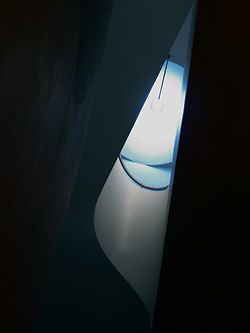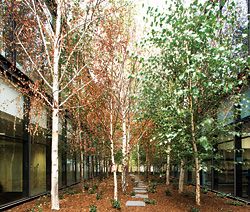 Headquarters Sussan Sportsgirl
Durbach Block Architects

JURY CITATION
The Sussan Sportsgirl corporate headquarters are the result of a limited competition for effective adaptive reuse of a disjointed collection of twentieth-century industrial buildings.
The site, located between a major freeway and main railway line, and approached down narrow lanes, also overlooks the Yarra River. By cutting through the centre of the building and creating a sliver of garden admitting light, the planning and arrangement were made logical, with reception and formal offices fronting the street, and beyond the garden, an array of working spaces overlooking the river.
Towards the street, planks of translucent glass admit muted light, giving privacy from the road and providing a distinctive elevation – of ethereal materiality – with the entry via a stepped ramp and planted porch. Distinctive stainless steel handrails, crisp steel detailing of the central garden's fenestration and bridge, plaster blades concluding in rounded projections and a sweeping, top-lit staircase all combine in a cohesive architectural language.
The client wanted to create a special, memorable workplace, with gardens that provided a soft contrast and emphasized the seasons. The spaces emerging from the former industrial buildings are sometimes unusually proportioned but are used to good effect, with plenty of opportunities to present the owner's spectacular art collection.
The workplace has been transformed: it is spacious, light-filled, art-enhanced and with outlooks to an attractive landscaped courtyard and the Yarra River.
The clarity of the new planning, the seamless transition of spaces and finishes, the exemplary working environment and the general quality of the finished product speak volumes of the working relationship between a single-minded client (and patron of the arts), a creative architect and a competent builder.

Architect
Durbach Block Architects—project director Neil Durbach; project architect David Jaggers; design architect Camilla Block, Lisa Le Van; documentation architect Joseph Grech; project team Stefan Heim, Brigitte Drysdale, Deborah Hodge

Structural consultant
Brown Consulting

Mechanical consultant
ULA

Electrical consultant
Hyder

Hydraulic consultant
CLG

Facade engineer
Arup

Building surveyor
Gardner Group

Project manager
APP

Construction and documentation manager
Maben Group

Photographer
Brett Boardman (top and middle), Patrick Bingham-Hall (bottom).


For further coverage see Artichoke 27.
National Commendation for Commercial Architecture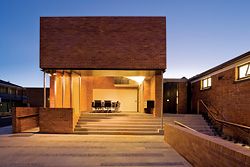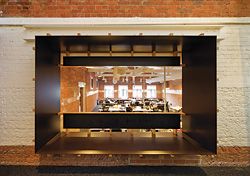 Hassell Warry Street Studio
Hassell

JURY CITATION
Fortitude Valley, possibly Brisbane's most diverse district, is the location of Hassell's Brisbane office. Originally a large brick bakery built in four stages, it has a formal elevation to Warry Street and a series of large truss-roofed bays behind. Traditional earthy brickwork, the trusses, sloping ceilings and an array of massive baking ovens convey the building's heritage.
The basic brick provides a connecting theme for new construction, kept to a fundamental formula of brick and concrete, with black steel and white plaster accents.
The former service yard has been reduced in size for parking and a low-scaled, almost monastic entry courtyard has been provided, with meeting rooms on one side and general staff areas on the other. Both open up in an easy way for simple access and cross-ventilation.
The office areas are light-filled and spacious with attractive communal areas. The marriage of the new and the old has been handled well, with a few deft transitions revealing the ad hoc nature of the original building. Airconditioning has been provided but is unnecessary for a large proportion of the year.
The project shows the value of retaining gutsy industrial buildings – in itself a sustainable initiative – and of emphasizing their strength and virtues through robust intervention and new additions.
Given that at least 50 percent of all future architecture commissions will be for the reworking of existing buildings, the Hassell offices show how a confident approach can retain existing significance and take a structure forward to a new and worthwhile future.

Architect
Hassell—project team Kirsti Simpson, Adrian Spence, Troy King, Ben McCarthy, Leigh Pailthorpe, Daniel Stace, Toby Lodge, James McIntyre, Kate Slack, Geneva Vanderzeil

Acoustic consultant
Ask Consulting Engineers

Building surveyor
Bartley Burns

Civil consultant
Sheehy and Partners

Cost consultant
WT Partnership

Environmental consultant
Cundall

Heritage consultant
Thom Blake Historian

Services consultant
Medland Metropolis

Structural consultant
Optimum Structures

Photographer
Dianna Snape