Principals and senior managers of architectural practices today are too busy. They are fraught with recessionary pressures, slipping project starts, skilled staff shortages and rising practice costs. They also have to navigate a sea of business acronyms such as CPI, KPI, GST, PAYG and CRM – each with its own set of complexities. It's no wonder that the average architect wants a little corporate peace and quiet. But will they ever find it without a focus on practice management?
Given that more than 90 percent of architecture firms have less than twenty-five staff, many don't have a person dedicated solely to managing the practice. Practice owners or senior architects normally assume the responsibility while coping with the day-to-day demands of projects, contractors, clients and staff. They are all highly educated but few have specialized business qualifications. Their business management experience is gained on the road and, because their real passion is design, sometimes the management of the business is neglected.
This desire to spend less time on business administration and more time on projects may lead to common business mistakes that may result in more serious issues over time. Here are some of the common pitfalls in practice management.
"This practice runs on great design!"
Obviously, design is what an architectural firm's reputation is based on and in many cases a firm's brand reflects the positioning of their design. But design doesn't pay the firm, invoicing does. More specifically, clients pay the invoices that a firm raises and if periodic invoicing does not match the outgoings of the business, they are indeed in trouble.
Accurate and timely invoicing is directly related to cash flow and as the saying goes, "cash is the lifeblood of business." So it's important when architects are juggling priorities that they don't fall into the trap of deferring the billing process until a "more appropriate time."
Every day that invoicing is delayed, the firm's stakeholders are put at risk – principals, suppliers, staff and their families. How quickly and easily a firm can gather their project-based information, transform it into a client invoice and send it in a timely manner will often determine whether they stay in business or not.
"Of course I back up, let me show you."
When questioned, most practices will proudly proclaim that they always back up their data on a file server using tape drives, CD/DVDs or an external drive sitting next to the server. Now, this is certainly better than nothing, but what help would these on-site backups provide in the case of natural disasters such as floods, bushfires or earthquakes?
Recently a firm in Christchurch was told that their building had been "red carded," which meant they could not access their office for the next six months. Luckily, they found their file servers being wheeled out the front door by tradespeople and they were able to patch the hardware and get their data back. The lesson? Practices need to consider off-site backup.
Off-site backup facilities allow the data stored on central file servers to be backed up incrementally throughout the day, over the internet, to a storage location off site. There are many IT companies offering this now and the costs are low.
Once an off-site backup is organized, firms need to periodically test that they can retrieve and read their backup files to make sure they're working. Better still, consider a cloud-based (internet-hosted) business system or use vendors that can provide an automated disaster recovery capability for business data. The upcoming surge of software vendors offering such services will change the face of computing yet again.
"We don't budget projects or track progress."
Architects commonly determine a proposed fee before they win the project or they scratch out a drawing list or percentage of anticipated project works. However, the work is still performed by staff or contractors and takes a certain amount of time. Often there is a tendency among firms to render a fee proposal and then hope that the time (and charges) consumed getting the work out the door are less than the fee.
So do practices give their teams some sort of target for the work to be performed? Many answer: "We tell them the fee and as long as they come in under the fee we are satisfied." But is that enough? If staff are told that the fee is levied on 230 hours at $120 per hour, or $27,600, then that is exactly what they see if they actually aggregate the charges. So, if the fee was $36,000, would they then declare it took 300 hours? Or did that 70 hours of work just disappear – eroding the firm's margins?
Many firms also say that they want to be able to plan their resources, to know that their team's utilization or capacity is high or low, that they need additional headcount or that they don't have enough work for forthcoming months. In order to do this, projects need to be broken down into resources by staff roles and by time.
Similarly, when projects run over budget shouldn't it be simple to identify where the overruns are by checking time spent against time budgeted? Perhaps there is a variation that should be charged or time has been booked to the wrong project or phase. Perhaps someone has been "loading" a project with long lunch hours, or just wasting time on the job. They may need training in a certain technical area or maybe the budget was just unrealistic. The overriding issue is that most firms don't know. If they don't track it, they can't manage it or use it repeatedly for the next project with similar requirements or constraints.
About 99 percent of firms do time sheets – they just need to take the next step. Creating a budget and tracking it will give practice owners ongoing knowledge about the financial state of affairs at their practice.
"I don't set my rates, the market determines what we can charge. I have to settle for what the market will pay."
Most accountants and lawyers earn more than double what the average architect earns. And it's not because they are better at managing their rates – they simply charge more. A lawyer's or accountant's bill will list everything they did in great detail, including that hourly rate. Here's how they do it.
Firstly, they know their real staff costs, not just the annual salary package. They work it down to an hourly billable charge rate, taking into account public holidays and annual, sick and long service leave. Then they discount the hours to be worked per year by a percentage devoted to non-billable tasks such as research and training, marketing, staff meetings and administrative tasks such as time sheets and billing. So they actually build in a factor, per staff, for doing time sheets and it's wrapped up in the hourly rate that they charge – no excuses for not doing time sheets.
Secondly, they then take into account the costs of their overheads. That is, what are the additional costs of the business that are not for the technical staff? This would include premises, admin staff, IT costs, marketing costs, interest and so on. They factor these costs into the charge out as an uplift multiplier on top of the staff costs and this ensures that they don't lose money per hour billed.
Thirdly, they add a profit margin. It's usually a target margin but this buffer covers the unexpected, the growth plans and the additional risk that principals take into account when they first put their shingle on the door.
And, lastly, accountants and lawyers charge what they charge because they believe in the value of their services. They respect each other's professionalism, they don't cannibalize the market by dropping their prices at the first sign of resistance from a client, and they justify their value. After all, value is not judged by price alone but by the quality and quantity of what is delivered.
So architectural firms' rates should be determined by their real staff costs, overheads and what they expect to earn by being in business as a risk taker. Once they have this figure, they then need to make sure they charge it.
"I can't afford to spend more money on software."
Architects were not always averse to investing in software. In fact, fifteen years ago when the rapid rise of CAD and design software began, many were early adopters. It was not long before computers were on every desk and centralized plan plotters were spitting out paper with precision and speed. The ratio of draftspeople to architects or engineers dropped from three-to-one to one-to-one. Now it's reversed – there is almost one draftsperson to every three professionals. All the time, software was responsible for efficiency in repetition, calculations and design.
Today there is a plateau in software adoption. CAD has morphed into BIM, PDFs and internet-based project portals are commonplace, yet many still don't see the value in using purpose-built software to do the time consuming and repetitive practice management work. Instead, multiple "homemade" spreadsheets are implemented that are prone to error and result in a duplication of efforts, reducing billable hours.
The principals of firms that use software to manage information throughout their businesses – including project costing, time sheets, customer relationship management (CRM), contract administration and document and email management – receive a practice-wide view on the health of their projects, clients, staff and business. Plus, if they're on the road or working from home, more software providers are making this information available online so they can access it from their iPhone, iPad or home computer.
If firms continue to invest in software, they can significantly reduce their workloads by automating repetitive and time consuming tasks. They will also have access to an increasing amount of practice information through the internet and their mobile devices – giving them the flexibility to work when and wherever it is needed (not just within the confines of their office).
"We don't need a practice management information system."
There is a great quote that applies to architects as much as to any business: "There are firms that make things happen, there are firms that watch things happen, and there are firms that wonder what happened."
Practice management systems are the efficient business systems that cover a firm's risk. They turn everyday tasks such as time sheets, invoicing, registering jobs and email management into business information that firms can use to make real-time decisions. They also achieve much more in determining factors like which clients are more profitable, which staff are the high achievers, what projects are the most successful, what should the firm be charging and, most importantly, where to direct the owner's and staff's time and attention.
As with most software, there are a number of providers in the market and their offerings vary. A firm's strategic goals are normally an important factor behind the purchase decision. Due to the uniqueness of project-based work, make sure the software is designed specifically for architects by a reputable supplier with a proven track record. Look for colleagues with experience in implementing and using the systems under consideration. Ask the software suppliers for references. If firms choose wisely, their investment will serve them well into the future.
Scott Osborne is the founder and CEO of Total Synergy.
Further information


Total Synergy is a leader in business management software for architects, engineers and construction design firms. Over 300 Australian practices use Synergy to help manage their practices and projects, so they have more time to do the things they love – like design. Synergy Practice Management software includes project management and budgeting, time sheets, costs and billing, contact management, document and email management, contract administration and extensive reporting.
Total Synergy
totalsynergy.com
Source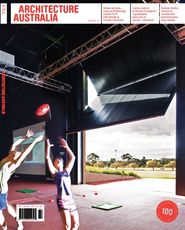 Issue
Architecture Australia, July 2011
Related topics