In a rare moment, ten of Melbourne's big design brains gathered around a table, (and a Café Vue lunch box), to discuss the critical issues facing the commercial interior design profession. The event, held on 16 June 2011 at Woods Bagot, was part of a series of Commercial Interior Round Table, organized by the Design Institute of Australia (DIA). The topic under discussion was "design value in contemporary society," addressing local, commercially focused design and imagining its possible futures.
The questions were difficult and, at times, invitees were probed and pushed to rethink their own preconceptions and fall back positions. For example: How can designers re-claim leadership roles in a climate where project managers determine design process? How can the industry promote positive messages to the general public and improve the public perception of design/ers? And, the money question: How can design practices resist having to provide more and more for less (and less)?
From these questions, a series of case studies and lines of enquiry were posited and "scribed" in smaller groups. Key outcomes concerned how to address the way design professionals and the general public apply different values to design as well as the possible opportunities for the DIA to promote, legislate and advocate for professional design.
val·ue (noun) _ relative worth, merit, or importance
There is a need to recognize the value of design in Australia. Advocacy and marketing agendas can support and develop the future of Australian design. The media is an obvious avenue for the discussion because it reaches potential clients across all sectors. It was suggested that, alongside the DIA's current focus on education, (through, for example, student initiatives), professional awards and competitions, the education of the potential design market is equally important. Design language is a contributing factor to the tensions between designer and client. Somehow, the profession needs to migrate into the non-design world and claim some agency. Some invitees suggested the use of advocates to speak about their experiences with the design profession – this might bridge the gap between the design world and the (much maligned) "real" world. The legislation of design practice was also noted as potentially providing a foundation for design-led business initiatives that celebrate design and prove the effects of design on the client's wallet, social spaces, health and wellbeing.
val·ue (verb) _ to calculate or reckon the monetary value of; give a specified material or financial value to
With the current economic climate shifting, practices have been forced to undercut fees to acquire good projects. Establishing an agreed fee structure through professional DIA membership policies would be a start to conveying the financial benefit of good design to potential clients. This would additionally allow practices to compete for jobs based on the quality of their work and expertise in particular areas, rather than on the financial bottom line. The design profession continually needs to prove itself as commercially responsible to clients and time lines. In doing so, the profession's profile in the business world can be built with further target markets identified. This may, in part, be developed via a keen and clever marketing plan and/or strategy developed through the DIA, which can begin to brand the profession as both reliable and invaluable.
Tasks were divided and each practice agreed to pursue and develop a particular area of interest. The outcomes, no doubt, will require patience and perseverance. But with such vivid and vital emergent themes, and the collaborative force of those who participated, the design profession has good odds on addressing these pressing issues.
Note: Valerie Mack, associate at Woods Bagot and commercial interiors representative for the DIA, organized this event. Invitees included Bronwyn Pratt (Hassell), Megan Ronnfeldt (BVN), Jeffery Copolov (Bates Smart), Sue Carr (Carr Design), Ryan Russell (Russell and George), Robert Puksand (Gray Puksand), and Sonia Simpfendorfer (Nexus Designs). Robyn Lindsey (Geyer) was the facilitator. James Harper (Victorian President of the DIA) was in attendance.
Source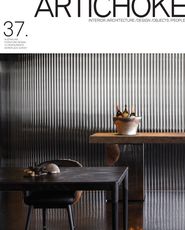 Issue
Artichoke, December 2011
Related topics