TROPPO HAS WON THE ADELAIDE AFFORDABLE ECO-HOUSING COMPETITION WITH A PROJECT THAT ADDRESSES SOCIAL AS WELL AS ENVIRONMENTAL ECOLOGY. STEVE LOO CONSIDERS THE COMPETITION AND THE ISSUES IT RAISES.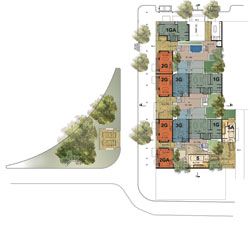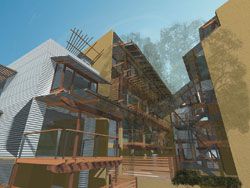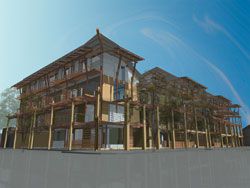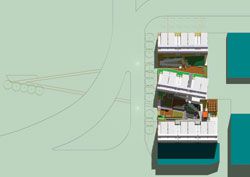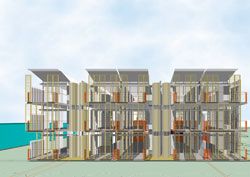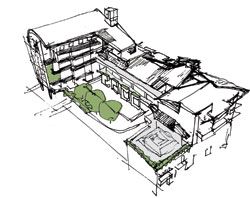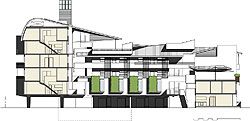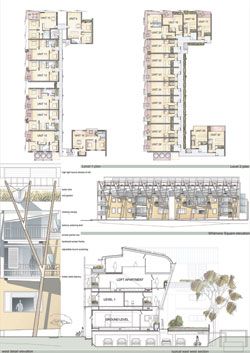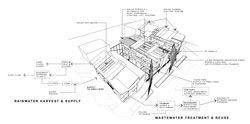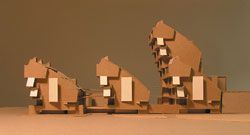 THE ADELAIDE AFFORDABLE Eco-Housing Competition is worthy of critical comment on two counts. The first is the pragmatic and local concern of design competitions. Truly open architectural competitions are very nearly absent in South Australia - let alone a national competition like the one featured here. The open design competition is arguably an egalitarian and effective method to exploit the potential within any design brief, ensuring a breadth of solutions and offering opportunities for all-important risk taking in design. However, when a "real" project is at stake, economic imperatives commonly mitigate against the unpredictable outcomes of the competition process. A conservative, "better-the-devil-you-know" attitude prevails in the selection of architects for major projects, at least in South Australia.
More poignantly, the success of an open design competition relies wholly on the management of the competition rules.Wary of the recent difficulties surrounding the management of certain competition models in other places (for example, the questionable two-stage competition in which practices who have not participated in the first open stage are invited to submit in the second stage), the Adelaide City Council and the State Government of South Australia boldly announced a single-stage national housing competition in August last year, with a clear undertaking to construct the winning entry. The RAIA, recently reserved about design competitions, lent its national endorsement. The resultant competition was well executed, transparent and democratic, with the management of competition rules and achievable brief appearing fair without losing the spirit of invention.
The second concern that makes this competition worthy of attention is a universal one: ecology. While ecologically sustainable design (ESD) and its derivative nomenclatures is hardly an alien concept in architecture, quantitative criteria for assessment and success are elusive. The development of processes, materials and systems per se may be far-reaching in terms of sustainable outcomes. However, it is technocratic to believe that the imperative of ecological strategies in design is to maintain equilibrium within a natural environment that is assumed to be a closed system. That is, to think of ecology only in the service of alleviating a deteriorating natural environment, and of consensus as the only basis for an environmental movement, is myopic.
Part of the problem is the multivalent effects of contemporary capitalism. Capitalist power is fluid: it works through linguistic, imagistic and symbolic norms to create consensus. Paradoxically, its effect on humanity is one of alienation. In terms of ESD, capitalism works through repetitious refrains at the level of human affectual(emotional and experiential) states to perpetuate "eco-desire", the source for the further production of commodifiable "green" designs. "Green" architecture becomes like a bad refrain that you can't get out of your head, with somewhat over-rehearsed aesthetics, commonplace ethics and dogmatic imperatives. The "eco" tag also brings a new level of urgency to architectural design: architects need to make certain manoeuvres in order to save the environment for future generations.
In the context of this competition, the site itself adds to this pressure. Located on the south-east corner of Whitmore Square, it is in close proximity to the much-touted but never-realized Ecopolis project and to recent straw bale housing experiments. The site is also surrounded by the last bastion of ungentrified remnants of light industrial urban programmes in inner-city Adelaide, and is home to Salvation Army and St Vincent de Paul facilities for the urban destitute - a precinct in need to rejuvenation, or so it seems.
Predictable hallmarks prevail in design communication associated with "eco" challenges in architecture: red and blue arrows of cross ventilation paths, winter sun penetration and summer sun exclusion angles, sciagraphics showing the effects of north light, rainwater reticulation and other water management diagrams, banks of solar cells, et cetera.
Interestingly, the competition presentation by the winning practice, the Adelaide office of Troppo Architects - headed by Phil Harris, who has been in Adelaide for four years after a formidable period of practice at the top end of Australia - does not overtly advertise its eco-credentials. There are no fancy arrows or cutaway technical sections. In fact, the entry communicates an everyday-ness in the design of elegant and graceful living conditions. The formal language is recognizably Troppo, although with the tropical filigree building ends and filtered envelopes tempered by Adelaide's temperate conditions. (Herein lies another interesting question concerning architectural languages in our image-driven world: does Troppo's architectural language already connote "ecological"?)
Troppo's scheme and several of the short-listed schemes drive home the point that many "eco-manoeuvres" are simply basic principles of good design for climate and human wellbeing. The project is predictable in its macro urban layout: three building bars facing north, with well-articulated western facades addressing the civic quality of the square, and roofs pitched low to the south for solar access to buildings to the south. The scheme is also predictable in its material choices: heavier materials such as rammed earth and masonry at the lower "kickable" levels, and lightweight timber construction with timber and corrugated steel cladding at upper levels. The selected timber is cypress pine, which is the only type produced through a sustainable forest industry in South Australia. According to Harris, the construction system and material choices are sensible for the present time, and Troppo is cautious when working with new materials, preferring instead to opt for materials with known durability and effects on the environment and humans. The jury chair, 2004 RAIA Gold Medallist Gregory Burgess, described Troppo's entry as "exemplary in achieving a 'balance' given the competing demands of reduced building cost to produce an affordable product, and a high level of environmental performance and quality."
So why is this scheme worthy of an Eco-Housing award? In its small moves, Troppo's scheme widens the way in which we attend to ecology, moving beyond the technocratic to include human subjectivity. As such, it is consistent with philosopher Felix Guattari's notion of "ecosophy". As well as environmental sustainability, Guattari's ecological model seeks the production of unpredictable or "dissident" subjectivities rather than a mass movement of like-minded people. He calls for ecology to include ways to reclaim the potential to extend who we are - and how we live, feel and care - from a collective mass-media subjectivity. Guattari's aim for ecology is to resist predetermined ethico-aesthetic positions, to imagine new subjectivities.
Troppo's design makes space for unexpected encounters - in association with its ecological moves - which might help produce such subjectivities. On a traffic island in front of the competition site, facing the square, are two bays for car washing, the grey water from which is treated in retention basins within Whitmore Square itself. A homeless man, waiting to be let in to his overnight accommodation in the Vincent Centre, says, "Hey, nice car, mate!" There is a "rather grand" public verandah along the facade fronting the square, which extends the urban wanderer's possibilities and welcomes the stranger to stroll through the proposed housing complex: the destitute and the flâneur meet the owner of the $500K eco-apartment. The underground car park in rammed earth is affectionately referred to as a "cave with tree trunks"; it has a communal space with 28 individual workbenches, one for each apartment. Verandahs are labelled as "party" and "good morning sunshine": architecture inscribes the human body.
When Burgess speaks of "balance" in his jury citation, I believe he refers to more than the technical competencies of ecological principles of the design. In his A. S. Hook address, Burgess spoke of a "social ecology" where there is an ecology of groups and communities coextensive with the environment. As Burgess reminds us, architecture is processual and not only technological - its material presence in the world is the trace of a continual "dance" between architecture and humanity.
STEVE LOO IS A SENIOR LECTURER AND PROGRAM DIRECTOR OF ARCHITECTURE AT THE LOUIS LAYBOURNE SMITH SCHOOL OF ARCHITECTURE AND DESIGN, UNIVERSITY OF SOUTH AUSTRALIA.