Elizabeth Farrelly on the East Darling Harbour competition – issues, entries and market forces.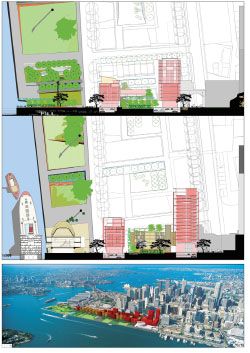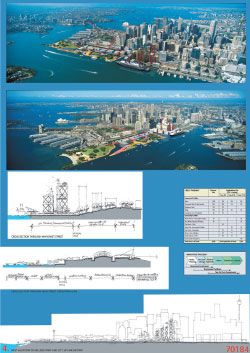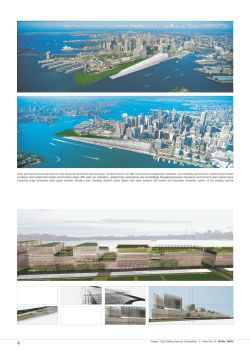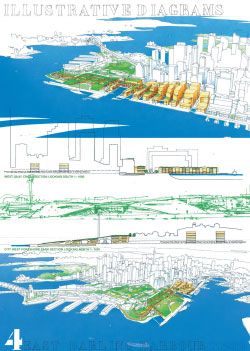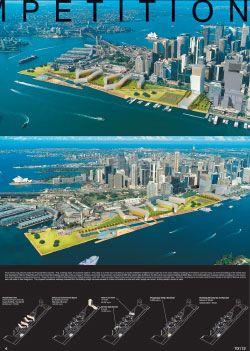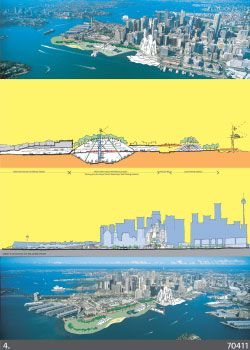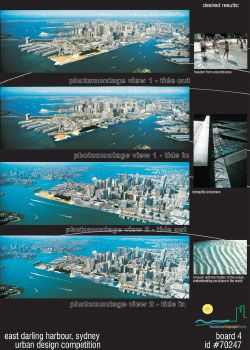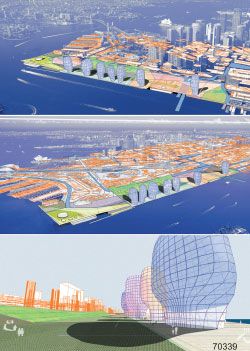 If intelligence is, as they say, an ability to embrace contradictory ideas at one time, then contemporary Sydney must be slap bang in the genius tray. Historians may even see it as our defining characteristic; the way we've embraced virtuality to the point of accepting a near-total disjunction between the look and the fact. The way government is no longer about what is done, but what is said; government, that is, by press release.
The East Darling Harbour International Urban Design Competition is a classic case in point, floating confidently on a whole host of unresolved issues that writhe and teem unseen beneath the placid surface gloss.
Issues, what issues? Well, that half of Sydney is still passionately engaged in trying to sustain a genuinely working harbour in Port Jackson – beyond the pallid mix of ferries and cruise ships that constitutes the government definition. That Patrick and P&O stevedores, who are expected to vacate the land for Port Botany by year's end, may have nowhere to go if the proposed Port Botany expansion remains bogged in its current controversy. That Botany Bay is already under serious, possibly terminal, ecological pressure from a toxic plume of groundwater heading south into the bay, the heavily polluted Penrhyn Estuary, the Kurnell refinery output and Bob Carr's ill-fated de-salination plant, pumping hot water into the fragile bay. Plus there's a seagrass problem – it's a crucial fish breeding-ground and no-one's sure it can survive any of the above, much less all. That's before you even start expanding the port. And that taking freight out of Sydney makes little sense when eighty per cent of it must be trucked back in.
One can only presume that most of the 137 architect teams who spent tens of thousands of dollars each to enter the competition – brief requirements included four A1 sheets and an A1 model – weren't across most of this, or they might have thought twice before tossing their pearls into the swill. Yet, toss they did, and a short-list of five we have. Are we any the wiser?
East Darling Harbour is twenty-two hectares of reclaimed concrete apron, sandwiched between a gentrified Walsh Bay and a gentrified King Street Wharf. "The task that now lies before you," intoned then-Premier Bob Carr, Mission Impossible-fashion, in the brief, "is to provide ideas and concepts that will underpin the transformation of this spectacular site." Transform it into what? Well, no-one seemed all that clear, frankly. The brief imposed requirements for fifty per cent parkland, seventy-five per cent offices, and a hundred per cent self-funding. Beyond that, it dissolved into a swamp of politically correct imprecision.
And the jury – a ten-person pollie's special, with a hefty preponderance of bureaucrats to out-swamp sharp thinkers like Philippe Robert – wasn't a lot clearer. They sought view-preservation for the noisy Millers Point types and something – but, uh, what? – that "captures the essence of Sydney". Essence of Sydney? Uhuh?
To cover their backs, the jury chose as finalists exemplars of five different design strategies: a modernist mega-wedge (from PTW, Australia, who were covering the bases with no fewer than five separate submissions); a moment of wild'n'whacky figuralism – recalling the finger wharves, but in an arthritic and twitchy sort of way (from American stars Thom Mayne and George Hargreaves with Project Architecture); a carefully-knitted fine-grain old-glove (from locals Hill Thalis, Paul Berkemeier and Jane Irwin); an old-style "bold vision" from Lend Lease Design Group showing one half solidly built-over – including the strip directly in front of their own new headquarters building, beat that for altruism! – the other half Canberra-esque parkland; and a rich one-of-everything mix from a team that includes the grand vizier of UK urbanism Lord Richard Rogers, America's wild-girl of landscape Martha Schwartz, our own Ed Lippmann and Lend Lease Development (as opposed to Design).
This last is easily the most charming of the five. Like many others, it concentrates the high-rise at the southern, Wynyard-end of the site. Unlike most, though, this scheme abjures the vast and friendless lawn-feature for the chock-full city precinct: food-market, food school, cricket school, fishing pontoon, harbour pool, aquaculture facility, eucalyptus forest, wine centre, wetlands and city port. Plus a new City Beach, modelled on Nielsen Park, and a whole system of canals and harbours carved from landfill. Fanciful perhaps, but it'd sure be fun for the flâneur.
Apart from the five finalists, who receive $50K now and a further $100K for stage 2, an apparently random selection of twenty-eight schemes is also exhibited, while the remaining one-hundred-odd also-rans languish in A3 flip-files. This mysterious three-tier arrangement has sent a wave of angst through the refusées – not least because it means a number of appealing ideas will never see the light of day. Lippmann Associates' other scheme, for instance, with three tall eco-pods at one end and a new rail station under Observatory Hill, and Tony Caro's elegant seven-finger wharves solution, among others.
The exhibited also-rans also offer some provocations, including Crawford Architects' (US) proposed part-flooding to provide wetlands, mangroves and wind-harvesting, and SOM's bizarre blobs-on-sticks. Blobs, made possible by cyber-design, are architecture's latest thing and SOM is one of America's shiniest corporate firms, but its fistful of smooth-skinned snot-green blob totems is the weirdest thing in the show. Not lovable, mind, just weird. What I'd like, personally, is to combine the two, making the globby, mucousy towers rise straight from the seaweedy rock-pooly child-infested littoral wash-zone. Very virtual.
Chris Johnson, who slid painlessly during the competition process from being NSW Government Architect to Executive Director, Urban Renewal for the Department of Infrastructure Planning and Natural Resources and Professor of Practice in the University of Sydney's Faculty of Architecture, chaired the jury. The selection process was anonymous, of course, and Johnson's view is that it wasn't so much about selecting five schemes, which will "probably end up as five quite different schemes anyway" as "sensing the design ideas, creativity and level of competence behind those images" and gently steering the other members in their direction. He anticipates, during stage 2, a general convergence, rendering the poetic schemes more pragmatic and the pragmatic ones more poetic.
So, for instance, the Rogers scheme will lose its endearing City Beach (too much ferrywash) and its canals (too expensive; better just to let sleeping fill lie). Making what remains pretty much indistinguishable from the rest. That's how we get everything to be so boring in NSW. It's called market forces but really it's about political safety and public liability and an absolute terror of genuine difference. Don't laugh. This level of conformism takes years of practice. It's not easy.
Then again, that's the good thing about cyber-Sydney. None of it really matters. It's not like they're going to build the winning scheme – are you kidding? – just spend another few hundred thou on a master-plan, which is way easier than a Metro Strategy and anyway, along with the entire state infrastructure, is programmed to self-destruct within the next twenty seconds… uh, years. So relax, don't worry, enjoy.
Source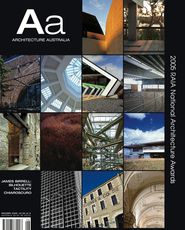 Issue
Architecture Australia, November 2005
Related topics