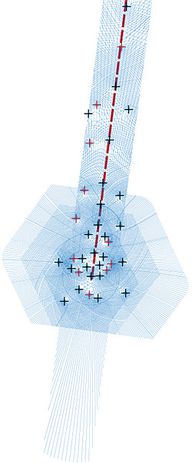 Eugenie Bell considers design interventions for the Canberra City Centre proposed in an ideas competition for young ACT architects.
The New Push 2009, an architecture design competition for young and emerging ACT architects and graduates of architecture, was exhibited in Canberra during Architecture Week. It was organized by Faction*, the Australian Institute of Architects ACT Chapter group of young and emerging architects. Entrants included Ben Walker (the overall winner), Jessica de Rome, and the teams of Erin Hinton, Dominic Pelle, Myles Hannah and Steven Cetrtek; x-men – Andrew Verri and Raja Reddy; and Supermanoeuvre – Iain (Max) Maxwell and Dave Pigram.
The competition brief required entrants to "explore the current city patterns of the focus area, and infer from the findings what the desired future of the inner city of Canberra could be." Faction* member and exhibition curator Vlasta Jeftic noted that entrants were challenged to create a "new standard of the public realm" around the historically significant Sydney and Melbourne buildings, which anchor the southern boundary of the Canberra City centre and its axial thoroughfare, Northbourne Avenue. The Sydney and Melbourne buildings stand in the larger urban context of a rapidly evolving commercial, judicial, residential and university zone, although their immediate environment is somewhat dilapidated and moribund.
Ben Walker's winning Pod Market proposal metaphorically seeds underused interior courtyard spaces of the buildings with flexible "pods". Comprised of steel and glass, with movable wall panels, louvres and sunshading, the modular cubic pods can be assembled in both horizontal and vertical stacked arrangements, added to or reduced as requirements change. While the necessary service corridor is retained, Walker's intervention would transform the currently unkempt interstitial spaces with small sites for retail, community and social activities – boutique book or coffee shops, and spaces for games, meetings, musical practice or children's play. Ensuing liveliness could animate unattractive back-of-house spaces and, with the pods in vertical tower form, serve as a marker for a vibrant focal point of activity. Walker has a light touch, with his pods taking advantage of existing trees and good solar access, while requiring neither demolition nor significant modifications to the existing urban fabric in order to enhance experience in the public realm.
A different approach was taken in Supermanoeuvre's Cultural Attractor Field entry. They proposed a one-hundred-year macro view of the larger city centre area derived from a master algorithmic study. It would provide a more adaptive and flexible urban model commencing with strategic introduction of landscape, street furniture and architectural elements. Residents and visitors in 2109 would experience a dynamic central city locus with playgrounds, cafes and a new City Hall, serviced by a VFT station and subways connecting to the Australian National University and the University of Canberra – all most welcome additions.
Exhibited in the new Gallery of Australian Design in Commonwealth Place on the edge of Lake Burley Griffin, the New Push 2009 offered the public an opportunity to consider innovative concepts for the national capital. Faction* hopes the competition will continue as an annual event, offering young and emerging architects important opportunities to propose new urban visions.
Dr Eugenie Keefer Bell is Associate Professor of Architecture at the University of Canberra.
JURY
Nathan Judd (chair),
Gibson Judd + Associates Architecture;
Peter Collins, Collins Caddaye Architects;
Linda Staite, Canberra CBD Limited, Chief Executive Officer.