The Queensland government has unveiled draft concept designs for a major overhaul of the Cairns Convention Centre by Cox Architecture.
In its 2017/18 state budget, the Queensland government allocated $176 million for the expansion project, which will include 3,000-square-metres of new exhibition space and meeting rooms, as well as the refurbishment of the existing space.
The Cairns Convention Centre is located on the edge of Cairns CBD and is bound by Hartley, Sheridan, Wharf and Grafton streets.
"There are some space constraints to consider in fitting a new 3,000[-square-metre] exhibition hall and supporting plenary space into this CBD location, given existing buildings and roads in this area and also the Port Authority building and fig tree to the east," said Queensland treasurer Curtis Pitt.
"That's why these concepts provide options to expand to the north or the east with a determination to be made that provides the best benefits for Cairns, the Port and the city well into the future."
At a press conference, Pitt said, "The options are to go across the [Ports North] car park. That's going to be a very good option because it has great continuity."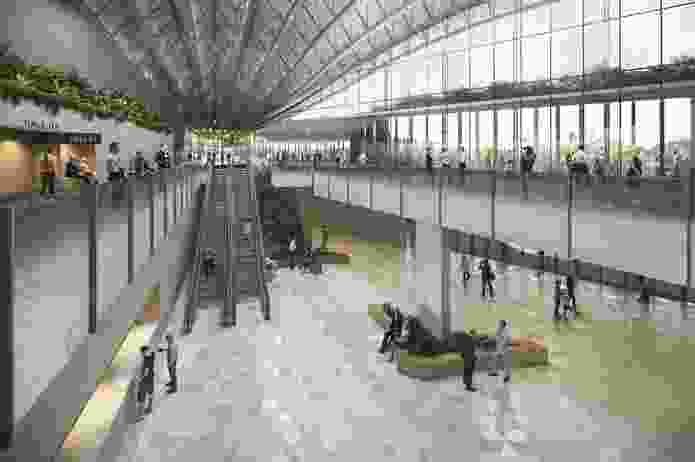 This option would require the local council to relinquish Grafton Street, as well as the Cairns Port Authority to hand over the car park land. The Cairns Post reports that the Cairns Port Authority is reluctant to relinquish its property.
"We can also extend the other way," Pitt said, referring to an option to extend the convention centre to the north, across Hartley Street, onto land currently occupied by a council-owned building that was formerly the local post office.
"That's going to mean we're going to have additional traffic management issues we have to look at, including working with Cairns Regional Council and other stakeholders."
"Importantly we have to make sure we get this right because this is a once-in-a-lifetime opportunity to significantly expand the capacity of the convention centre," Pitt said.
The existing Cairns Convention Centre was designed by Cox Rayner (now Cox Architecture) and built in two stages in 1996 and 2000. The building is characterized by a concertina roof form, which channels tropical rainfall into a water storage tank and is used to irrigate the garden. According to a case study on tropical sustainable design by James Cook University, the convention centre was Australia's first environmentally-designed major public building. It also boasts a solar hot water system and sensor-controlled sun louvres.
Related topics