Situated across the courtyard from the already iconic Hugo's Bar Pizza in Kings Cross, Concrete Blonde has quickly become Sydney's latest hot spot to see and be seen. Well known for creating dramatic interiors and for designing some of Sydney's best restaurants, Michael McCann from Dreamtime Australia Design was enlisted to wield his signature brush. And, for those familiar with his interiors, this is classic McCann – there are the bespoke feature elements created using metal and concrete in collaboration with Axolotl. There's the distinctive animal hide – here used in a small recess in the form of a grey, textured wall covering. And there are the graphics – somewhere between graffiti and blackboard doodles – used on the awnings to the courtyard outside and on the glass on the door that leads to the toilets.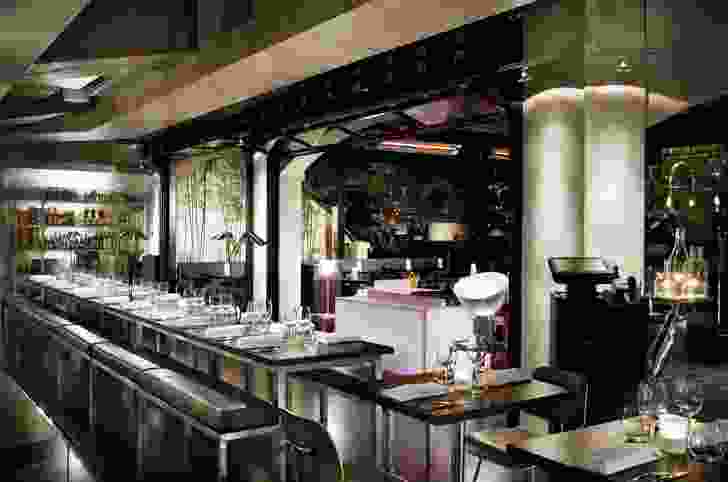 The overall impression when walking into Concrete Blonde is of an industrial interior in warm tones, lit dramatically, simple and strong on first viewing, but with detail in every corner. Some of the architectural elements of the existing interior were kept exposed, including an internal concrete grid and exposed hydraulic piping. Fibre cement sheeting was added, with a sealer to make it look aged. A sheet of metal balls like semispheres of ball bearings have been used as a finish to the front of the bar. On the wall behind, a series of driftwood planks with steel nails embedded in a grid of spikes also provides texture. Opposite, a wine cellar becomes sculptural thanks to a series of square shelves for the bottles, all sealed behind glass. "We used warm-toned fibre cement sheeting and plate steel box shelving with dramatic lighting to create a glassed-in, airconditioned wine cellar," explains McCann.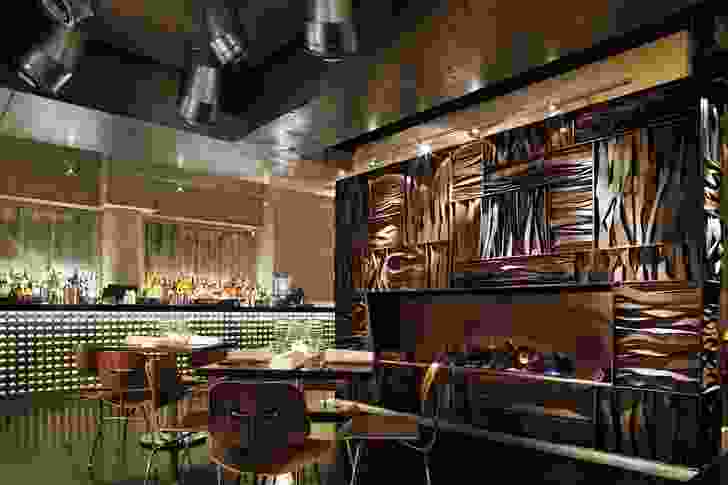 But the outstanding feature in Concrete Blonde is the fireplace, a large bespoke artisanal structure made in brown metal. The piece is imposing, with a regular pattern of robust detail, and in the fireplace itself the metal takes the shape of firewood. The brown theme is repeated throughout the rest of the interior in timber, featured in the floor, tables and seating. The kitchen is large and open, including a low, round wood-fired rotisserie, one-and-a-half metres in diameter, and two round gas-fired char grills with woodchips. Mimicking these circles, the firewood is kept in a series of round shelves on the wall behind.
On the terrace outside, the central feature is a fountain that spouts either water or fire, while illuminated plastic furniture is a clever source of lighting at night. "Dramatic, yet low-key, moody lighting makes a crucial difference in warming the ambience of the interior and exterior spaces," explains McCann. "As well, several light fixtures are highly creative industrial luminaires, adding a further touch of wow and whimsy to the overall atmosphere." While lighting is key to achieving what McCann calls the "wow" factor, what he really brings to a project like this is the ability to create bespoke artisan-made features that assure owners that this interior is truly one of a kind
Products and materials
Walls

Fibre cement from CSR. Custom tiles from Axolotl. Hair-on-hide cladding from Kyle Bunting, Texas.
Flooring

Timber flooring from Havwoods. Concrete flooring from Axolotl.
Windows

Renlita overhead doors from Monarch Group. Glazing by Excel Glass. Specialty toilet door entry glass by Axolotl.
Ceiling

Flocking from Envirospray.
Fireplace

Internal fireplace artistic cladding from Robert Hook Metal Workshop. Internal fireplace from Jetmaster. External water/fire feature surround from Axolotl. Custom design to feature by Phos.
Furniture

Internal dining chairs are Eames Plywood and external are Eames Plastic from Herman Miller. Banquettes from Beclau. Wire stools from Stand Agencies. Internal leather from Pelle Leather.
Lighting

From Masson, Gineico, ECC Lighting, Dedece, Wombat Hollow, Diffuse Lighting.
Graphics

Graffiti door and toilet door graphics designed by Sally Spratt Studio.
Credits
Design practice

Dreamtime Australia Design
Rushcutters Bay, Sydney, NSW, Australia
Project Team

Michael McCann, Sally Gordon, Cristina Lupica
Consultants

Builder Northern Projects
Electrical contractor Datalec Services
Engineer Macartney Engineering Consultants
Mechanical Apex Aircon, Speedy Ventilation

Site Details

Location 33 Bayswater Road, Potts Point, Sydney, NSW, Australia
Site type Suburban

Project Details

Status Built
Design, documentation 8 months
Construction 5 months
Category Hospitality, Interiors

Client

Client name Concrete Blonde
Website concreteblonderestaurant.com.au

Source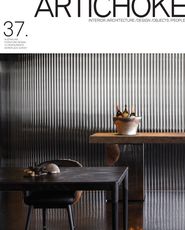 Project
Published online: 4 Apr 2012
Words: Penny Craswell
Images: Paul Gosney for Elbow-Room
Issue
Artichoke, December 2011
Related topics