Naomi Stead:
Germs of culture, folding ever outward.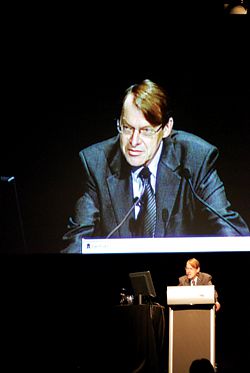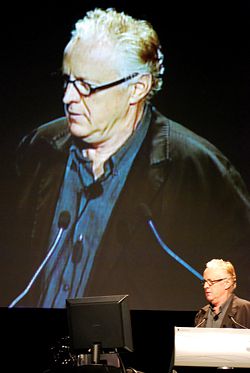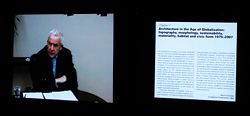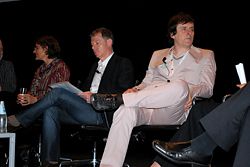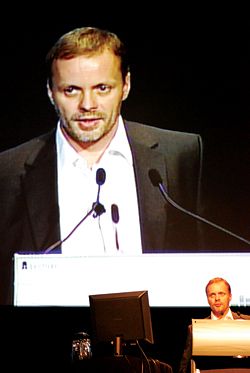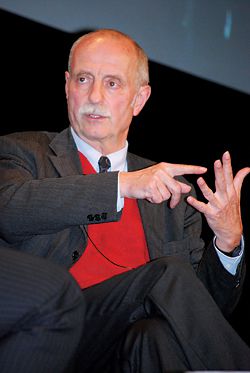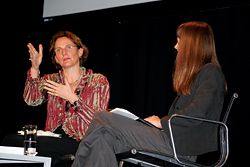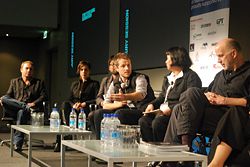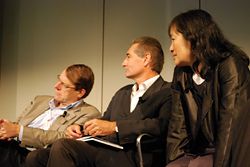 They say that culture is what turns milk sour. The biological metaphor is apt – the germ of an idea falls into a fertile medium, and before you know it you have a thickening swampy yoghurt of new artefacts, new behaviours, new ideas. You would think that the RAIA's national conference would be exactly the place where such germs would be swarming around in a fecund cloud, and where we, the architectural fraternity, would stand ready to catch them and cultivate new colonies of architectural culture. Is that what happened at this year's conference? Well, yes and no.
For one thing, some presentations lacked anything we might actually call an architectural "idea". Sure, they had craft and refinement and an exquisite level of professional competence, and on more than one occasion I pondered whether we should all just leave architecture to the Germanic scientist-types, with their hyper-effective harm-minimizing architecture-machines. But then I thought, no, there is more to architecture than bloodless technique. It is only when you consider the overwhelming, exhilarating, poignant ferment of culture more broadly, when you set aside the sometimes impossibly stultified and internalized aspects of architectural disciplinarity, when you realize and celebrate the fact that there is more to life than buildings, that you really begin to see the potential in architecture.
So there we all were, all thousand-odd of us, sitting expectantly in the Sydney Convention Centre on that first cloudy Thursday afternoon. The lights went down and the music began and lo, it was a passage from "Idioteque", a song from Radiohead's fourth album Kid A, its rumbling, pounding techno beat built up in layers of stuttering distortion and overlaid again by a high, sweet progression of harmonic electronic tones. As it happens, this is one of my favourite songs, by my favourite band, so I will come back to that. Accompanying the music, in a sequence that we would become accustomed to over the next three days, was a sleek audiovisual montage – a trajectory beginning with flood, cyclone and melting ice, changing to slums, people displaced by natural disaster, mass industrialized agriculture seen from the air, shifting again (sometimes from the literally sublime to the almost comically trivial) to images of the architectural work of the speakers in that session, and ending with a lingering image of the earth as seen from space, the blue planet hanging there all jewel-like and vulnerable in the void, the point driven home by the low whistling of a desolate space-wind. There is of course a certain unspeakable aesthetic charge in these kinds of images, a pleasure that is also terror, a revelling in the aesthetics of destruction. In many ways it had the same enjoyment as watching a disaster flick. More than that, the occasional artful glitch and swerve of the images had its own message: the end of the world will be televised.
After this it seemed quite appropriate that creative director Richard Francis-Jones's opening speech should be full of the dire facts and figures that we have all come to know so well, laden with urgency and portent – the world is going to hell in a handbasket, doom is looming and no-one can any longer deny it, it is simply a question of how soon. Francis-Jones has always had the delivery of an orator, but never before has a subject been so well suited to his grave and elegiac tone. Sitting there in that opening session was like being present at the funeral of the world. An apocalyptic tone hung over the whole conference; the hot dread of nuclear Armageddon that darkened all our childhoods has been replaced by the colder and more inexorable dread of massive climate disaster. But if Francis-Jones's opening speech was remarkably like a eulogy, it could also have inflected the rest of the conference with the character of a wake, with all the tragic excess and delirium that entails. There was little of this, and I wished that there had been more.
So we had the grey eminence of Kenneth Frampton, doing what he does so well – a magisterial survey that would have been quite at home as an undergraduate lecture, but which we all lapped up because it was authoratative and canonical. Frampton was most impressive, and most interesting, when making frank critical asides – for instance, about Herzog and de Meuron's "bird's-nest" stadium in China, an "irresponsible and inelegant" building that they "have seen fit to inflict upon the Chinese". There were other memorable moments: a strangely gender-orthodox pattern in the formation of panels and among some international speakers, whereby the women did materiality while the men did technology; Leon van Schaik, outside of his Melburnian element, as elegantly threatening as a coiled viper; Hannah Tribe twice stealing the show with her architectural and rhetorical wit; James Weirick, affable and statesmanlike, flicking in the blink of an eye from the most effusive praise to the most devastating critique; Tom Kovac doing a flawless imitation of a boorish, coked-up rock star, but clearly winning the prize for best suit. Altogether, Francis-Jones is to be roundly congratulated on the diversity of speakers and formats, and on a genuine attempt to precipitate discussion beyond doctrinaire position-taking.
But for me the main highlight was Howard Raggatt. He is one of the most eloquent and intelligent architects working in Australia today, and Lord knows we rarely see him speaking in Sydney, so one wonders whether he could have been given a headline gig rather than us all listening to some of the internationals "burbling on about timber detailing for an hour", as one colleague put it. Raggatt sees architecture in light of much larger metaphysical questions, and even if Christian mysticism is not your own cup of tea, there is no denying the power and coherence of his position. For me this is disappointingly counteracted by the flippant tone that Raggatt often frequently also affects, presumably to defuse his own gravitas and ward off accusations of being overly earnest. But no matter how outrageous some of the schemes he showed, and no matter how we might secretly breathe a sigh of relief that they won't actually be built, Raggatt's two short presentations had more architectural ideas, more casually brilliant inventiveness, more overt creativity than most of the other speakers put together. This was nowhere more evident than in his vocabulary – no-one else spoke of an architecture that is "chubby", "frothing", "sticky", "wayward", "humming"; no-one else spoke of an architecture of longing, or proposed that "surely it is also something like prayer". Raggatt's strange enthusiasms, his obsessive architectural eccentricities, are exactly the kind of provocations one would hope for from a conference like this. He also offered a way out of what threatened at one point to become a stalemate of (false) polarization between the digital and analogue realms in architecture – arguing that it doesn't matter what methods or techniques or tools you use, whether high-end software or a cold chisel, what is important is whether the outcome actually means something.
And this brings me back to "Idioteque". That piece of music, and specifically the clip that was featured at the conference, contains a four-chord progression sampled from Paul Lansky's "Mild und leise", one of the first pieces of entirely electronic music, laboriously produced on an enormous IBM 360 mainframe at Princeton University in 1973. Lansky had in turn based his synthesized composition on the so-called "Tristan chord" from Wagner's opera Tristan und Isolde, hence the title of his piece, which comes from the famous last aria in that opera, the German words meaning "fair and gentle". The point here is clear: this song demonstrates the patent falsity of any polarization between digital and analogue methods of production in music, and is a salutary demonstration of the way that culture propagates, across time and place, in a recognizable lineage of musical association and inheritance, a reworking of musical ideas which produces something quite original and distinct and equally valid in the shift between different instruments. It would be just as absurd to criticize Radiohead for using digital techniques in composing and recording this song as it would be to complain that they haven't used a harpsichord. They have created an entirely new piece of digital music, using fragments of older electronic and operatic music, and also using that most analogue instrument of all, the voice, in a new seamless and inventive whole. The resultant piece is as contemporary and meaningful and affecting and actually material as architecture using all the tools at its current disposal can also be. When I think back to what germs of culture I caught at the conference, this was the most profound: an architecture that shuts itself off from the possibilities that new technologies and techniques have opened to it does no justice to its own history, nor to a concept of architecture as itself culture, nor to the world at large. Being true to the discipline means folding it ever outward and then holding it open, exposed, quivering.

Dr Naomi Stead is a senior lecturer in architecture at the University of Technology, Sydney.
Elizabeth Watson-Brown:
The Banyan Tree – Architecture for the Apocalypse.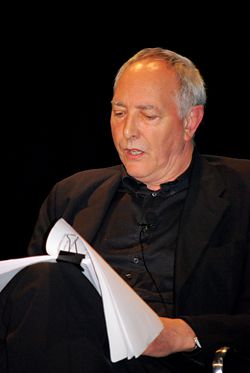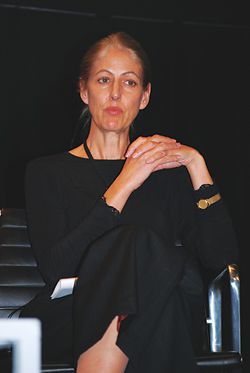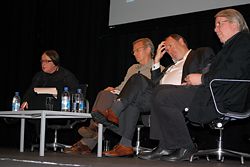 The 1100 faithful gathered, the lights dimmed, the CV08 graphics and beats pumped. Richard Francis-Jones took the dais. Beguiling images danced before us – "our" beautiful planet floating in dark space, her atmosphere swirling, and on her surface, perhaps signifying her rape, huge buildings thrusting into choked brown skies. In dulcet voice like some high priest of calm and reason, RFJ laid it out – a gentle but stirring call to arms. "The crisis is upon us," he said. We heard that change is our paradigm. We heard of the speed and magnitude of that change. We heard that the global ecological crisis is also one of social and economic inequity. RFJ's agenda was clear. We were gathered to acknowledge THE CRISIS, to position architecture in Armageddon. We were exhorted to challenge, provoke and question. Perhaps we could develop shared values united through this external and mutual threat.
"Don't think architects are going to save us," Tom Kovac later said. Salvation is certainly a big ask, yet the fact that roughly half the world's CO2 emissions occur in buildings and infrastructure suggests we should be closely involved in the salvage attempt. CV08 discussions ranged over apparent dialectics – digital technology/craft, natural landscape and indigenous "place"/the city, art/science, global culture/local community – but it became clear that redemption may reside in bridging these. Architecture as the art of synthesis can surely be part of that.
An elegant example is the digital discussion. Digital technology offers previously unimaginable expressive and productive possibilities, so what is meaningful form and structure? We can now make almost any form – forms "found" through rational investigation, and forms "made" in service of particular aesthetic or theoretical constructs – but what form should we make? For form "finder" Chris Bosse, the natural inspires the virtual, which enables the real. The biological world and its systems intelligence can inspire structural and energy efficiency and beauty "beyond the blob". For Michael Hensel of Ocean, physical experiments precede digital modelling and design comes from the actual properties of materials. What was considered "bad", like the changeability of timber, can be understood and modelled to generate elegant structural systems. Form "maker" Howard Raggatt described form as "a longing", and the digital as "a tool" apparently used to sate it by creating wilful "deformations and exquisite manipulation".
Éminence grise Thomas Herzog then reminded us that the important skin is the one we live on – the earth's. Herzog's architecture is rigorous science and technological tenacity, getting involved "down to the last screw". If one accepts Leon van Schaik's suggestion that the German engineers insist on "no aesthetic intention", then the human appeal of these buildings is incidental to the science.
Christoph Ingenhoven showed us buildings produced out of superlative six-star science illustrated by those red and blue arrow diagrams of air and energy flow. Ingenhoven's largely glass buildings are physically transparent but also signify political, communicative, economic and social transparency. His aim is social quality. He spoke of building for people of future generations. Good science fabricates the habitations and the hope is that good human places result.
To judge how good, we need spatial intelligence. Van Schaik explained that this is poorly understood and certainly undervalued. Advances in neuroscience allow us to "excavate our intuition". Better spatial intelligence may engender better spaces, better cities. Encouragingly, recent research shows that good spatial environments stimulate neurogenesis. Chris Wilkinson's Gateshead Millennium and Ballet School bridges, structures of surpassing lightness and geometrical delight, would surely provide that neurogenetic stimulus. Here the clear, rational solution – the "beautiful idea" – produces physical beauty. Wilkinson strives to "fully absorb and understand science in order to make the art".
For Billie Tsien there is the measurable and the immeasurable. Tsien was a breath of warm air after "the digitals". Jill Garner advocated less noise, Billie Tsien resistance to speed. Architecture should "show the work of hands", should catch you and slow you down. The Folk Art Museum in New York seems to emanate from the human, from the interior, from craft. It has an emotive gorgeousness – joy in material and mystery. It "makes" the place, where their Mumbai Tata project "finds" the place.
Jennifer Taylor asked us to consider place in the context of the globalized production of architecture. Frampton had said it should start with the landscape. Tsien's Mumbai Tata project honours the existence of the trees. The banyan tree, a recurring reference at CV08, signifies community, protection and nature. Local craft embeds the building in the locale.
Francine Houben talked of the "DNA of place" and aims for the "unforgettable collective space" – innovative, warm, human and sustainable. The university library of grass and glass is a "Dutch mountain", the Lleida theatre of the earth. The banyan tree reference recurs in the Taiwan National Performing Arts Centre, here abstracted as digital form generator. If not warm or human, this huge building is certainly likely to be unforgettable.
Brigitte Shim's Toronto projects interweave built form, landscape, climate and geomorphology. This resonated with many Australian concerns, as did Shim's admission that Canada had not done well honouring local culture.
For half of us the city is our local culture, our place. In the next ten years, 500 million people will move into Chinese cities. They will be more populous than the rest of the world. Qingyun Ma, or "Dark Horse", says it's difficult to talk about China. "Everyone" practises in China and Western critics don't help. His Curatorial City is a temporary set of relationships. The banyan tree reappears. In the China translated for us by Ma, the values are "flexibility, resilience and tolerance". Repetitiveness is calm. But we panic when we see huge tracts of a Tang Dynasty city erased. If every project is a social project as he says, these are social projects of sheer unimaginable scale and cloudy meaning to us. Ma is right – many of us probably cannot understand China. There is an apparent disjunction of values, scale, temporal sense and understanding of history. CV08 suggested that architecture can be a "dialectical bridge", but can it span this chasm?
We should now look to the ethical dimension. We must avoid hypocrisy and cultural snobbery. "Dubai" became conference code for ridiculous, greed-driven, energy-profligate "architainment". But circumspection is required before sniffing at Dubai or China. ("Major producers of greenhouse gases AND human rights abusers.") Here in Oz, a long-running building boom has been of very direct benefit to a generation of architects. This has been largely fuelled by ripping coal out of the ground and flogging it to China. Nor can we be particularly proud of our own human rights record. The moral high ground is very shaky. While global carpetbagging is rife, here we also have projects whose madness is matched only by their magnitude. And architects do them.
RFJ the smooth moderator got us through and at least to the edge of the bridge. We returned to our endeavours with a sense of esprit de corps and a resolve to attempt the crossing.

Elizabeth Watson-Brown is director of Elizabeth Watson-Brown Architects.
Ben Hewett:
Research and Critical Visions for the Future.
Ambition for architecture was expressed from the start of this year's RAIA national conference. With a background of seemingly insurmountable global difficulties, creative director Richard Francis-Jones asked, "What critical vision can we offer?" Over the course of the conference the difficulties the architectural field has in responding to such a broad agenda became apparent.
While the ambition for the conference nearly overwhelmed, it was, in fact, a welcome relief for an Australian architectural event of this scale. This year, we were not there to witness a "starchitect rock extravaganza" (2006) or to stay stuck in the banality of "a day in the office" (2007), but rather to engage in a challenge to our profession. Is this perhaps the articulation of a serious critical agenda for Australian architectural practice, academia and research?
Architects presenting work at all scales, in a reasonable variety of contexts, overlapped with proposals and critiques from academics. For the most part, the speakers and panels illuminated the difficulties of dealing with the scale and politics of such issues, not by directly presenting or articulating a critical vision, but by way of omission.
Simplistic processes and a lack of criticality were traits of many presenters and panels – there were platitudes like "the computer is just another tool", "the section is being lost" and "context is our canvas". Those most able to meet the ambitions of the conference dealt with complex scenarios and scales. Significantly, research was an integral factor in the work of speakers who came closest to that of a critical vision.
Many of the approaches presented became problematic when held to the frame of "distressing social inequality, cultural conflict and impending environmental crises" outlined by Francis-Jones. The opportunity to engage with these broader critical issues is frustrated when architects, threatened by the rapid advances in technology, return to feel-good discussions of "poetics" and "the fundamental notion of enclosing space". At one end of the scale was the arguably beautiful yet almost indulgent fetishization of material effect from Tsien Williams. At the other were ARM's limited and unfocused digital techniques for the production of form. The reliance of Brigitte Shim and many others on "the poetic" was also troublesome. These well-established, normative approaches of materiality, formal play or phenomenology can lead to nice looking walls at the right time of the day, or to "beautiful" domestic spaces, but they seem thin as singular positions when architects are asked to speak of their critical vision and architecture's possible response to global crisis.
While a number of architects sought to reduce discussions and possibilities to dichotomies, Michael Hensel, of Ocean North, demonstrated an inclusive approach, which sought to link research, teaching and experimentation to tangible social projects. Calling for an engagement with other disciplines and highlighting the unrealized potential of research, Hensel also demonstrated the possibility for craftsmanship and specificity in the use of contemporary and future production techniques and tools. His request for precision in the use of terms such as "form", used liberally within panels, succinctly identified the difficulties that many discussions encountered.
Thomas Herzog demonstrated the ethical and sustainable approach to architecture that he has pursued throughout his career – a clear example of how the conference issues may be considered by architects. His presentation discussed a history of involvement in both design and research of sustainable practices. Crucially, while there is an integral relationship between the two with obvious benefits, both are offered on projects as discrete billable services. That clients are prepared to pay for both shows a clear acknowledgment of the value of research to architecture and the construction industry.
With offices in LA and China and as Dean of the School of Architecture at the University of Southern California, Qingyun Ma was perhaps the speaker with most relevance to the issues of "contemporary global practice, spectacular formal expression and faith in economic growth" raised in Francis-Jones's introductory text. Ma's presentation, The Curatorial City, offered a critical insider's approach to research and thinking about the urban condition within China. Pointedly, Ma refers to Western architects and critics not helping the situation by asking superficial questions of Chinese architecture. An obvious, yet relevant critique of the effect of architects operating in a foreign context, it brought to mind Rem Koolhaas's opinion of Australian firms working in China, "The Enemy … suits, with moustaches, receding hairlines and suspect waistlines, huddled in a collective pose of pre-emptive servility … they peddle their soulless wares with shameless calculation – Anglo termites of pragmatism – or tell reassuring fairy tales like 'the Skyscraper as Citizen', as if to four-year-olds …" Ma spoke of a "Chineseness" that is tolerant of and resilient to rapid development, citing a nation with a history of constant reconstruction. This observation, combined with his ability to operate strategically, was an interesting foil to other, Western speakers. However, the constant reversion to "Chinese wisdom" on the panels and reviews he participated in succeeded in mystifying his otherwise relevant critiques.
While the speakers and panels demonstrated the inadequacies of singular approaches to the themes of the conference, the concurrent Sydney City Future Visions allowed an opportunity to engage specifically with the issues. Young practices were selected to prepare visions for review. The relevance of some review panel members was questionable, however, with repeated platitudes such as "cars are bad", "public transport is good" or even "visions of the future should be avoided". This investigation of visions for Sydney's future from emerging architects was a worthy inclusion in the program. The call for action and the opportunity to engage in critical discussion of specific and immediate issues was important in the otherwise overwhelming context for the conference.
With a juxtaposition of speakers and the inclusion of proposals and critiques, the conference clearly demonstrated the opportunity that research offers to architectural thinking. Research should exist as a realm discrete from both practice and academia, as a way to bridge the widening gap between the two in Australian architecture. If, as Mark Wigley, Dean of Architecture at Columbia, argues, architects are public intellectuals, then we need to raise the level at which we operate. The Australian position of measuring our architectural worth by the number of beautiful houses we create is becomingly increasingly hard to maintain in the larger scale of world issues.
The success of the conference lies in the ambitious agenda from Richard Francis-Jones that stands as a provocation to Australian architecture. But importantly, it also lies in the possible links to future conferences, particularly as will be taken up by Terroir, the organizers for 2009. The potential of a collaborative group, working in both practice and academia, who have resolutely placed research on the agenda, as creative directors is exciting. Gerard Reinmuth's desire to seek clarity in discussing the digital in relationship to architecture is a welcome aim, particularly given the current gaps in Australian architectural discourse. The declaration that Terroir will invite interrogators of culture outside architecture, and practices where research culture underpins the work, promises an essential development of a serious critical agenda for Australian architecture.

Ben Hewett is a senior lecturer in architecture at the University of Technology, Sydney and a director of Offshore Studio.
Carey Lyon and Neil Appleton:
Pride cometh before the fall – diary notes on a new sobriety.
It starts with the urgent beating of the drums, keeping time with the images of microscopic nature and ruined buildings. We then abandon Planet Earth with a cold, post-apocalyptic wind blowing in our ears. The world is in crisis. The task at hand may be impossible, the challenge almost too great. What place architecture and sustainable development in this context? A climate of fear is created, a toe curling cringe. Drastic times call for drastic measures. Is the solution at hand? Can architecture respond, seriously?
A Spiritual Leader (Frampton). The old wizard, soothsayer and writer of serious non-fiction joins us in godlike "video mode" from a very windy NY. The magic stone rapping on wood, hammer blows of "irrefutable truths". So it is written in the book, final chapter, revision 7. Modernism is not dead, it's just been in slumber, a well-groomed bear in hibernation – a resurrection even. The solution is "the unfinished project of modernism'' – minimalism, materiality, structure and tectonics, simulations of nature (where nature has replaced the machine as the source of choice), eschewing representation as an evil excess. Pluralism is OK as long as it fits down the narrow canon of modernism's very straight barrel. A long list of who's good and who's bad, with a few Australian "good guys" so we know it's not prerecorded for a global audience. The message is not subtle, it's a time for sobriety – sober responses to global calamities means sober form. One must "find form", not "make form" (whatever this means), as though form was lost on the way to the conference.
Experience, not perception (Tsien). Anti-image, anti-perception, resisting the "pull of the image", another evil excess. Since when is "thinking" not a part of "experience"? Pluck my eyes out so that I might feel. Give me the heat of a campfire and a couple of sticks to click together, I'll be happy. Primitive but alive, all delivered without a hint of condescension. So much earnestness, so little irony. They obviously like "art" but not if it's of a conceptual kind, heaven forbid, one might have to think about it. Is thinking pleasurable … let me think about that. I'll get back to you.
Five years of serious research, and the rain still comes in (Hensel). Credibility comes through the depth of the "network". Lots of believers, deep sea digital divers in this "ocean". One can find forms in nature, the microscopic patterns of growth, branching systems, birds' nests, roots, leaves, even trees (authenticity/virtual). The question is in the translation into an architectural project where one must "make form", by leaps of logic, scale, program and material (albeit no-one wants to admit to it – remember, that's "evil"). Lots of material doin' nothing. Scan a bird's nest, you know it's made of a mess of sticks, then make it out of steel, it makes a mess of very heavy steel. (Frei Otto gets lots of kudos here and so he should, he got real stuff built without a computer.) More tinkering with digital tools (Digital Forum). Digi-stuff might make for a very low carbon footprint, if it weren't for the conference circuit stars flying all over the planet talking about architecture (but not building). Digital architecture is always presented as a promise, but how long can we talk about the digital future and never get there? Perhaps there is no there there. Another ten years and the promise is another broken dream. Stop digital experiments now! Convince us by building, and give us the reasons to need it, to want it. Someone momentarily, inadvertently, even, connected the digital with meaning and culture – now there's an angle.
Book signings. Another book signing. What comes first – the invite or the book? The line was long for the eco-morphology stuff, the students "bought" it, heaven help us.
The Monk versus the Libertine (Globalization Forum). Biggest and best slugfest of the conference, flagellation followed by freedom. One "true" path or many roads to enlightenment. The evil of excess versus generosity of spirit. A crisis to avert or a curious detour. Local versus global. A compelling dichotomy unfolds until the monk gets personal on statistics with a king hit from behind! The moderator steps in and sends the monk to the sin-bin. The libertine reminds us that the vagaries of globalization are not the end of civilization, just the "ongoing project" of civilization.
Spamming the world (Ma). The rise of a superpower, dam another four rivers to power the bright lights of celebrity. Photos with Rem, this must be serious. To be fair, it's a balancing act, even an ironic act – resisting a global culture in the provinces while being a serious global operator. At least sites in China are acknowledged as cultural, a place made after a story, not merely something to "feel".
Jacques' very distant relative (Herzog). "I'm not interested in novel sensations" – no talking of aesthetics here. An honourable and impressive life of practice and research, but even monks value their icons. The ghost of Gottfried Semper hovers everywhere, beauty in utility, beauty in utility. Aesthetics just arrive to each project unannounced, with a mysterious knock on the door. Surrr-prrrise! Why talk of beauty as just a consequence, an unintended consequence at that, why not intend it, make it the main game?
More structures, structure everywhere, as though defying gravity is still interesting. It's a long time since the apple hit Newton. For a German he takes a wide berth around Freud's Vienna and the subconscious, and Wittgenstein's Vienna where language is everything. Make a mental note – check if architecture is a visual language.
The return of the Libertine (Visions Forum). In the visions for Australia some sense gets spoken, inner visions need a leg up, it's not all political. And the libertine spoke of human intelligence, and its great dimensions – even its canny sense of space. It was an architectural vision that passed quickly, like a faint glimmer of hope, some honouring of the human spirit within the pervasive gloom.
Although we missed the last session, we heard that the libertine clashed again over Tibet, on a question of free and open minds. Culture wars are fought over backyards as well as distant mountains.
The Ascension (Departure). As we ascend the Darling Harbour escalator into heaven, away from a planet known as Earth, the sounds of a nuclear winter blowing in our ears, let's pause to remember CV08. For it was written in all the books, the signed books, that the bear has woken, the planet was saved and the evil excess of "made form" banished to a footnote engraved with a blunt tool on the gravestone of postmodernity.

Carey Lyon and Neil Appleton are directors of Melbourne-based practice Lyons.