Despite the concerted efforts of an erupting volcano in detaining the keynote speakers, the Australian Institute of Architects National Conference forged ahead. Four delegates respond to its exploration of the culture of the extraordinary ordinary.
DWELLING AND THE CULTURE OF THE EXTRAORDINARY ORDINARY
KATRINA SIMON
The Australian Institute of Architects National Conference held recently in Sydney embodied its theme of the "extra/ordinary" in a range of intentional and inadvertent ways. The first was the conference situation itself – a familiar enough format for professional tribal gatherings that nevertheless creates a distinct diversion from everyday life. As is the way with the best-laid plans, a roaming ash cloud from the erupting Icelandic volcano interrupted travel for numerous visitors, requiring the rapid and agile rearrangement of presentation facilities for speakers stuck in various offshore locations. Satellite links brought them into the conference venue from distant places – a vivid reminder of the amazing technologies for communication on which we now utterly rely. The pixellated and mildly delayed images still conveyed the individuality and humour of the live presentation, often filmed against a homely and improvised backdrop that belied the sophistication of the procedure.
Also drawing attention to the relationship between ubiquity and uniqueness was the Visual Sociology project, initiated by Naomi Stead, Sandra Kaji-O'Grady and Kate Sweetapple, which was gathering data in the conference foyer in the form of photographic portraits of delegates. Intended as a collective portrait of the profession (or at least the conference-attending part of it), the project utilizes the power of multiple images to differentiate and also distinguish commonalities. The archetypal uniform of creative obsessive compulsives – black jacket, Moleskine notebook, funky bag and glasses – is revealed to have many permutations and subtle delights.
The power of difference within apparent uniformity was also a theme that was addressed by several of the speakers, in particular those who presented projects engaging with especially complex social and economic dynamics. In different ways, all projects in the built environment have to negotiate a very dense web of intentions, procedures, permissions and possible variations. Some of those presented at the conference were compelling for their apparent intractability. The elegance with which they were addressed was as clear within the reframing of the situation and the deft redeployment of conventional methods as in the resulting physical form.
Liza Fior's account of several projects by Muf in the UK demonstrated the potentially subversive power of conventional mapping and survey techniques. Counteracting the uniformity of large-scale masterplanning and the massive scale of redevelopment proposals, the careful attention paid to locating and documenting existing social and economic networks and landscape processes enabled far more subtle and connected sets of urban interventions to be made – interventions that still achieved the ambitions of the masterplans, but preserved the distinctiveness and vividness of different localities.
Responding to a more precarious urban situation in Chile, Alejandro Aravena described the transformational thinking behind projects that aimed to turn mass housing from being primarily a social expense into an investment for families, thus society at large. Here, as well, the option to import uniform, predetermined solutions from above was resisted. A meticulous analysis of the social and economic conditions for specific urban sites was carried out and, when the analysis revealed that the numbers simply didn't stack up and it was only possible to build half a house for each family, this was calmly identified as a valid architectural option! Drawing on the evident ability of families to self-construct parts of their houses – amply demonstrated by current widespread practices which are occurring in an uncontrolled and structure-weakening way – these projects re-analysed and reconstituted the house type according to what should be systematically and securely provided (such as structure and power) and what could be incrementally added. Particular attention was also paid to the scale of common social spaces created by different configurations of dwelling units and the degrees of autonomy and social cohesion that could be maintained in such environments.
Ingenious reassessment of urban situations characterized by extreme social inequity also lay at the heart of some of the neighbourhood projects discussed by Teddy Cruz. His research has documented the remarkable "confetti" of land uses in Tijuana and the emerging social relations that created and sustained them. The projects utilize the opportunistic strategies of land appropriation at a micro scale that are already at play in this city and seek ways to creatively choreograph them into new social systems and architectural forms that support urban life. Rather than a separate system, housing is seen as vitally connected to other aspects of urban life.
The idea that urban life might also depend a great deal on where and how one actually lives within it seemed to be a productive current throughout the conference. Rather than focusing on heroic mega projects of commercial urban renewal, or idealized housing typologies for undifferentiated sites and masses, the most engaging projects and presentations really addressed some of the possibilities thrown up by dealing with new combinations of ordinary things in remarkable ways.
Katrina Simon is a senior lecturer in landscape architecture at the University of New South Wales.
DOCUMENTATION: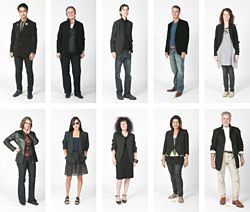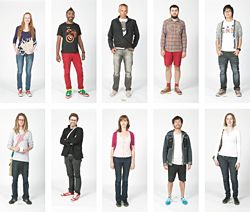 THE VISUAL SOCIOLOGY OF ARCHITECTS
Do architects really wear black? This was one of the questions that Sandra Kaji-O'Grady, Kate Sweetapple and I set out to answer with our visual research project Documentation: The Visual Sociology of Architects. Partly we were responding to the 2009 exhibition Portraits and Architecture at the National Portrait Gallery in Canberra, which raised many questions about the construction and maintenance of the creative persona of the architect. We were also interested in the professional status of women in Australian architecture – the fact that, though numerous and highly successful, women architects tend to be less "visible" in the public domain. And we were interested in how the architectural persona is reflected in narrative film – that parade of glamorous, sensitive and well-dressed (usually male) romantic leads who never seem to do any actual work. The various myths and stereotypes that surround the persona of the architect are often comical. They are also almost always exclusionary. But they are valid objects of cultural analysis in themselves.
Our aim with this project was not just to debunk clichés, to see who architects really are and what they actually look like. We also wanted to take a snapshot portrait of the profession as a collective and use this to document a whole architectural socio-culture at one historic instant. The collection could then be examined for traits and patterns, using visual cues to examine the various strands of architectural subculture.
A temporary photographic portrait studio, complete with uniform cyclorama backdrop, professional lighting and the services of portrait photographer extraordinaire Nick Bassett and his assistant Omar Roxas, was set up at the 2010 Australian Institute of Architects conference. One hundred and eighty-six individuals were photographed, including architects, students, staff of the Institute and academics – all members of architectural culture defined broadly. As the collection was amassed over the two days of the conference, the images were printed and displayed in situ in clusters arranged by visual similarity – the black jackets together, the colourful sneakers, the purple T-shirts, the scarfs, the glasses and so on. The attempt at a "neutral" visual style for the photographs was a deliberate reference to Objectivist serial art practices of the 1960s, particularly the strategies of the Düsseldorf school of photographers. We are trying for the same kind of comparison by juxtaposition, the grouping and curation of types, as seen in the work of Bernd and Hilla Becher.
Visual studies is often criticized for its apparent superficiality. But architects, of all people, understand the value and meaning of the facade and, as Oscar Wilde wrote, "It is only shallow people who do not judge by appearances." Even in the early stages of analysing the archive, it is clear that the vast majority of people photographed were not wearing black, just as the group was strikingly diverse in age, ethnicity, gender and fashion expression. By gathering visual data towards a portrait of the profession as a collective, rather than the traditional emphasis on portraits of individual architectural "authors", the archive reflects exactly the rich "extra/ordinariness" of contemporary architectural socio-culture.
Naomi Stead is a research fellow at the University of Queensland. The full range of images taken for the project can be seen at www.flickr.com/photos/30880783@N08/sets/72157623966401283/
IMPROVISATION AND ECONOMY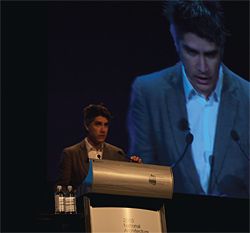 JACQUI ALEXANDER
A forward slash typically indicates a binary relationship – global/local, male/female, established/emerging. By this logic, the title for the 2010 national conference, extra/ordinary, is a misnomer. This year, some careful curatorial decisions ensured that the conference overcame much of the problematic dualism that has been the subject of criticism in previous years. There were no celebrity headliners and therefore no obvious hierarchy among speakers. Sessions were defined by subtopics such as "living", "cities", "people" and "things" – which were deliberately nebulous and interchangeable. Cleverly, this strategy reinforced the overarching theme, so that all architects – through the contribution of their individual work – were participants in a plural discussion of the "extraordinary". Matters that bound speakers seemed greater than those that separated them. And while the work presented was necessarily disparate, there was a recurrent focus on economy of means, improvisation, resourcefulness and community. This review considers the work of two insightful speakers who had no official dialogue at the conference, but who indicated a common yet divergent interest in economy and improvisation: Peter Ho of PHOOEY Architects and Alejandro Aravena of Chilean practice Elemental. Despite the best of intentions, architects are too often deterred from using recycled materials, which can be difficult to source and to match, and costly to clean, and their availability is often unreliable. What was most interesting about Ho's presentation at the conference was not the built outcomes themselves, but the methodology that has emerged from his practice's dogged ambition to maximize the use of recycled materials in its work.
This attitude towards resourcefulness has meant inventing a method for "documenting reuse". Materials are frugally allocated in the early stages of the project, and any discarded surplus is catalogued for potential reuse elsewhere. Ho explained that at PHOOEY's Children's Activity Centre at Skinners Park, the offcuts from the decking boards were anticipated prior to construction and re-employed to form the lining of the soffit, exemplifying their zero-waste policy.
In working with recycled materials, PHOOEY's documentation must be loose, but specific enough to accommodate design decisions in situ based on the availability of materials at the time of construction. While the selection, quantity and cost of materials must be determined early on in the design process, the material properties (such as colour and size) are completely variable and are often only revealed upon delivery to site.
This is when the real challenge begins. The arrangement or assemblage of these materials must be designed on site and on the run, resulting in a kind of improvised architecture. In this sense, the building and design process becomes amorphous, alluding to a more collaborative method of construction, in which the making of architecture becomes an event. This impromptu approach – also practised by Melbourne architects Bellemo & Cat, and perhaps explained by their particular background in public art and sculpture (installation Temporary Line of Site featured at the conference) – has emerged through circumventing the conventional linear design phase process.
PHOOEY's projects are loose, playful and full of ingenuity – a reflection of the practice's methodology, which demonstrates that sustainability does not need to be about reduction. At the conference, Ho summoned his modernist forefather, Mies van der Rohe, demanding answers: "Mies, is less really more?" When van der Rohe failed to respond, Ho concluded that it was best to "consume the whole animal", finding beauty even in the offal.
Alejandro Aravena was also concerned with achieving a maximum effect through an economy of means, or perhaps more accurately an economy of form. His discussion was framed in terms of the pursuit of an "irreducible" architecture. While PHOOEY's work pertains to excess, here design solutions are intentionally reductive in order to find the most fundamental expression of an idea or the most efficient plan for the scenario at hand.
Elemental's contribution to the mass housing market in Chile – a nation with high income inequality – was easily the most convincing work that Aravena presented. Developing a generic infrastructural strategy for housing that has been adapted to suit a variety of circumstances in Chile and Mexico, Elemental considered how the quality of living for families might be ameliorated so that homes become an investment, rather than an expense, like much of the substandard housing stock available. Community consultation revealed that families preferred to live in individual units, but some quick calculations determined that for the budget Elemental was working within, only a forty-metre-square footprint was achievable: essentially half the size of a typical middle income home. Rather than provide a small, cheap house, Elemental concluded that they would build "half a good house" for each family, with the possibility for staged expansion. Spatially, this idea is manifest as a prosaic yet elegant wall of row houses that occupy a modular frame: every second module is left vacant in a "hit-and-miss" fashion, ready to be colonized as the residents can afford.
In this sense, the architecture is unfinished at the point of practical completion: it is merely a shell. The articulation of these half-houses seems to recall the design language of Louis Kahn – this is somewhat ironic, as the role that the architect plays here is a complete subversion of the modernist attitude to total design. Out of necessity, Elemental operates as a facilitator for architecture to take place post-occupancy through a process of customization and improvisation by the residents. The architects celebrate the quoin-painted facades, fluorescent pink interiors and plastic-coated furniture on the practice's website through a series of before and after shots.
Aravena skimmed over Elemental's public and private commissions – with limited time, the housing schemes were clearly more relevant to the extra/ordinary disposition. Curiously, these poetic, gestural explorations of pure form and materials were a radical departure from the strategic, open-ended approach to housing. Despite meeting the criteria through which Aravena framed his work – "precise, relevant and irreducible" – these examples of heroic neo-modernism left me perplexed. Perhaps the explanation for these contradictory approaches is best understood in the context of Aravena's introduction: "Architects often answer well the wrong question – that's the worst thing." In other words, a well-formulated question will determine the appropriate response.
Aravena and Ho were not the only speakers to address ideas of improvisation and economy – Teddy Cruz and Jeremy Edmiston of System Architecture might have equally entered into this discussion. The nature of the 2010 proceedings was less esoteric, insular and indulgent than in previous years, which with luck is a reflection of the shifting paradigms of the profession in general. Extra/ordinary should be commended for tackling important social and environmental issues, offering a multitude of practical strategies and opportunities for dealing with them.
Jacqui Alexander is a graduate architect, teacher and editor of POST magazine. She is a creative director of Process events.
EXTRA/ORDINARY INDEED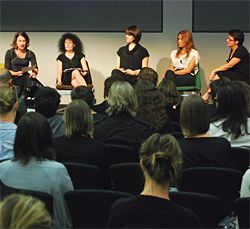 PAUL WALKER
The proposition that architecture is extra-ordinary is hardly new: it entails a binary in which the ordinary is usually building and, traditionally, the extra to make building architecture is design, aesthetics, propositional purport and/or theory. Simple enough. But building isn't the simple matter that it used to be. The focus of this conference, then, seemed appropriately enough to be on opportunities for architecture in banality: milk bottles, bicycles, donkeys, pencil shavings all featured in the conference's graphic apparatus to suggest its desire for a realm away from the inflated formal heroism made mandatory through digital media. To work, it depended on participants who would or could work with much less ego gratification from their work and do much less preaching than the architects who are usually the attractions at conferences like this. And mostly work it did. The impact of volcanic dust clouds in cancelling the travel plans of many of the invited keynotes rather emphasized the point that we can't transcend the material; the pairings of local and international speakers in each of the main conference sessions raised the question of which was the extra and which was the ordinary, how that old binary might have a geographical dimension and a personal one. So throughout the conference I played a game to try to pick out of each pair of speakers the ordinary and the extra, the ordinary always potentially having the possibility of wearing the '/' that separated the two, an extra "extra" for the ordinary … But it didn't work. The careful curatorial work of the conference's creative director, Mel Dodd, undid any attempt at such an interpretation.
The first pair of the conference was Liza Fior (of the English practice Muf) and Sydney's Richard Goodwin. Fior's East End of London certainly looked to start with like the ordinary, and Goodwin's explorations of residual spaces in Sydney CBD corporate towers looked exciting, in a kind of Mission: Impossible way … But Fior's presentation of the Muf project for Barking Town Centre demonstrated the detailed research into the specific cultural weave in each location in which that practice works: it became beguiling in its presentation as a protracted process engaging clients and communities of users to produce results that looked both simple and unforeseeable. Goodwin's interventions by comparison looked macho and abstract, and rather unfulfilled, the very condition of the architecture and bureaucratic environments it wanted desperately to tilt at.
The pairing of FAT (Fashion Architecture Taste) with Peter Corrigan didn't work for me because I couldn't stay to hear Corrigan (my apologies to the master), but the FAT work in my memory sat in stark contrast to one of another pair, Jeremy Edmiston of System Architects. What could be more different than thinking of architecture as system and thinking of it as caught between fashion and taste? FAT seems to be recuperating the whimsy of postmodernism, its cultivation of local ambitions through engaging with popular imagery. Sam Jacob – standing in for the stranded Sean Griffiths – demonstrated this in a series of projects in the Netherlands and the UK: the Hoogvliet Heerlijkheid project for a public hall, the renovation of the 1960s Sint Lucas school also in the Netherlands, the Blue House, the Islington Square social housing in Manchester. In each of these, the appliqué facadism of the postmodern seemed to have recovered its freshness, like the return to current restaurant menus of soufflés, fondue and crepes suzette. Yum. By comparison, Edmiston's Burst* project – a rigorously calculated house assembled from pre-cut ply that had been first realized on the north coast of NSW, and then re-created at the Museum of Modern Art in New York – seemed like a clever dish of spinach cooked five ways: a triumph of technique, nicely plated and very good for you, but kind of dull. Peter Ho – the local in fact paired with Edmiston – had a take on waste minimization that was both as high-minded as his colleague's and much more amusing. I expect copies of his cast-off carpet sofas will now be appearing in the homes of impecunious young architects across Australia … FAT's Islington Square had a second airing in the presentation by the developer who commissioned it, Tom Bloxham. Bloxham and his company Urban Splash are keeping the idea of Cool Britannia alive in the English provinces, with more than a decade of projects focused on urban regeneration in rust-belt cities, incorporating designer social housing. Urban Splash is currently renovating Sheffield's Park Hill, architecturally one of the greatest and also the most greatly hated of Britain's postwar housing schemes. It should be a particular test for Bloxham's design derring-do. Bloxham's local pairing was with David Waldren of Grocon, who have adopted design innovation as a corporate strategy for the significant Carlton United Breweries site in Melbourne. It will be a rich feast of local architectural talent, and though Waldren sounded convinced of what he is doing, situating design as company strategy places it at risk of being displaced by the next fad to hit executive-land – say, firing middle management. Let's hope this doesn't happen.
Two of the pairings came with much less eye candy than the others. NZ's Rewi Thompson and NSW's Dillon Kombumerri both discharge with great aplomb the responsibility thrust upon them to be simultaneously architect and indigene. Thompson demonstrated this through a review of his back catalogue of work, Kombumerri through commentary on his design approach; the discussion between them facilitated by Annabelle Pegrum was particularly rewarding, not least because they were present together on stage.
Teddy Cruz's analysis of the urban complex of San Diego and Tijuana played oddly against Kerstin Thompson's presentation of her strategy for police stations in the suburbs of Melbourne. Nevertheless, both Cruz's work and hers find energy in congeries of spaces and building cultures that are driven not by resolution but by conjunction, for him at the urban and for her at the building scale. In Thompson's police work, indeed, the extra/ordinary proposition of the conference was in my view most closely architecturally demonstrated.
An extra, perhaps, to the extra/ordinary pairs of presentations was a group of "expanded practice forums". One of these was on Women, Architecture and Models of Practice. "Gender is over, isn't it?" Naomi Stead rhetorically asked in her background text for this forum in the conference's program. Apparently not: the session provoked a series of testimonies about troubling, sometimes difficult and sometimes not so difficult experiences of practice from women in the audience, many of them very young architects. For the most part these young practitioners seemed completely unaware that twenty years ago, the theory turn in architectural discourse produced a catholic array of studies on gender, space, difference and design which fomented productive debate and engagement. But such studies now appear to have been lost from the architectural curriculum as if they never happened: evidence if any were needed of the discipline's ability to disavow its own immediate past. Extraordinary indeed.
Paul Walker is associate professor and Deputy Dean of the Faculty of Architecture Building and Planning at the University of Melbourne.
COMMON PLACES
PHILIP GOLDSWAIN
You will have seen Stephen Shore's photographs even if you've never heard of him. The influential photographer's work has been so assimilated by contemporary fashion, music and film that what was once radical is now familiar and unremarkable. In a series of road trips in the early 1970s, Shore photographed the quotidian objects and everyday spaces of American modern life: the forecourts of petrol stations, the markings of parking lots, the intersections of downtown streets and the generic furniture of motels. In this seemingly banal world Shore's camera found a stilled beauty. The photographs look almost like snapshots but they are highly composed, with a mathematical sense of perspectival order. Shore's topographical photographs catalogued the visual language of the suburbs with Robert Venturi, Denise Scott Brown and Steven Izenour for the 1976 exhibition Signs of Life, which critic Ada Louise Huxtable called "the definitive dissertation on forms, symbols and sources of the American way of life". From this cultural terrain emerged the firm's appreciation for what cultural geographer John Brinckerhoff Jackson called the "vernacular landscape".
Shore's work demanded a close reconsideration of the everyday, the viewing of its potential and the discovery of a meaning that unravelled slowly rather than striking immediately. The images revealed the "process" of investigation – a journey through a biographical landscape, with the photographer, as much as the final objects, as protagonist. I digress to give you this short photographic history because for me there were strong resonances between the way that Shore (and Jackson, Venturi and Scott Brown) worked and the diversity of practices represented at the 2010 conference. In this light, the deftly curated selection of speakers by conference creative director Melanie Dodd should not be seen as a recent reaction to the "frugality" that Institute president Melinda Dodson suggested was demanded at this moment by a post-Copenhagen, post-GFC world, but instead should be seen in light of a much broader (and longer) cultural history.
At a superficial level, English architecture practice FAT has inherited the stylistic mantle of Venturi and Scott Brown. While there appears to be a wilful antagonism about their work, Sam Jacob articulated the practice's considered rejection of the abstraction of modernist space and its embrace of the visceral quality of taste, with all of its difficulties, as a visual language and inherited cultural identity. This was presented through an array of architectural projects prefaced by diverse investigations such as the semiotic unpacking of the half-timbered house and strange lumpen clay versions of design classics such as Philippe Starck's Juicy Salif, which tested the proximity of copying. While FAT's Villa, a community hall in the Netherlands, and Islington Square social housing scheme appeared "po-mo" (as awkwardly put by the session's moderator), it was interesting to note the emphasis placed on the interrogation of the final architectural object by a process of activation, narrative and use. FAT's interest in distortion through use can be found in other projects such as Soft Hercules, a classical bust made of stress ball rubber reconfigured as a stool, which monstrously deforms when sat on. In FAT's Villa the architecture is tested by an R&B concert or a performance by a Dutch Oom-pah band, and in Islington Square it's tested by the idiosyncratic inhabitation of tenants, both contexts allowing the deliberate slippages in the architecture's making, and its incompleteness, to be appropriated by its users.
Also interested in process rather than objects, Liza Fior presented Muf's urban scaled work, which included the fine-grained mapping and categorization of the businesses of Dalston in East London. Instead of using an overlaid masterplan, existing economic and cultural activity were identified. The architects' interventions then sought to amplify an existing fragmented yet discernable condition rather than impose an applied order. Muf proposed temporary structures and events, which gave glimpses of the possibilities in "fragile" urban spaces where the architect had to act as a "double agent", according to Fior – the agent of money, leveraging off real estate speculation, as well as an agent of change for a greater public good.
The expanded practice of the architect, its potential for agency and its reliance on mapping and process were common to the work of Alejandro Aravena and Teddy Cruz. Cruz presented a remarkable series of maps of the trans-border conflict between neighbouring San Diego and Tijuana, which at first appearance looked like a montage, so great is the contrast in the density and order of their figure ground configuration. These were accompanied by diagrams that mapped the flows of labour and materials in the complicated relationship between these symbiotic urban and political systems. Cruz dramatically illustrated how Tijuana is being rebuilt using recycled materials appropriated from the retrofitting of the suburbs of San Diego, carried out by Mexican workers. He charismatically argues for the reconfiguring of the architect's role as a facilitator of "bottom-up" agency, as the designer of processes and as an integral component in financial networks and not-for-profit organizations. Similarly, Aravena, as the leader of a "do tank", spoke with clinical precision for the building of social equity through architecture. Using a series of formulas and then projects for illustration, Aravena argued for the architect's involvement in designing the "most difficult first half" of social housing in Latin America, which could later be extended by the owner. This difficult half includes the obvious, such as location, urban layout and unit organization, but it also involves anticipating the structure for the dwelling's ultimate configuration and aligning its final form to the financial capacity of a middle-income Chilean family. To emphasize the dramatic reduction of the significance of architectural form, Aravena's Elemental studio declares that a "square is better than a rectangle" at overcoming poverty!
Similarly, the work produced by Dillon Kombumerri in the NSW Government Architect's office is intriguing for the unremarkable quality of its architectural expression. Its gentle subversion relies on shifts in planning and site occupation to a more culturally sensitive approach to public buildings. In describing his own house, which shuts its eyes to the street, co-speaker Rewi Thompson described this as an "architecture of confrontation", which, as a Maori architect, he felt necessary to make.
The modesty of Kombumerri's and Thompson's work and their presentations seemed to echo Peter Corrigan's recollection of the "discovery of a just life" through his work in theatre design. In her conference introduction, Melanie Dodd highlighted the shift away from "starchitects" – but the heroic architect is a hard archetype to kill. It was there on the large screens where the (strangely disembodied) talking heads of elder statesmen Glenn Murcutt, Richard Johnson and Ken Maher introduced a sponsor's product. The conference wasn't free of its rock star presenters either – those too arrogant or unprofessional to keep to time or who, despite the collaborative nature of practice and research, referred relentlessly to the singular pronoun (at the very least, we all need a client). Peter Ho from PHOOEY was happy to play the clown but the work of his practice is far too smart and witty to be diminished by his dishevelled veneer.
Despite the persuasiveness of Cruz, Aravena, Muf and FAT, the distinction between the design of objects, places and spaces and the design of policy and processes that affect social change is still very significant. If this transformation of the "agency of architectural practice" is to occur it requires, like Shore's photography and Jackson's cultural history, a considered shift in attention in both the cross-disciplinary and integrated design education of architects, as well as within broader modes of practice. I hope these aspirations can be absorbed in the ordinary practice of architecture and become part of its mainstream culture.
Philip Goldswain is a lecturer in architecture at the University of Western Australia.