A "bike hub" at Curtin University in Perth, designed by Coniglio Ainsworth Architects with Place Laboratory, has been selected as one of 15 projects that represent innovative building designs featuring bicycling as a key design consideration.
The Bicycle Architecture Biennale is a touring exhibition that begins in Amsterdam – a city where architecture is frequently designed with cycling in mind. The aim of the event is to promote or demonstrate how bicycle access can be a visually appealing and sustainable aspect of any given project.
The Curtin Uni Bike Hub is one of only four projects in the exhibition that is not located in Europe and one of two from Asia-Pacific. The 2019 biennale was curated by Amsterdam- and Beijing-based practice Next Architects.
Bart Reuser, founding partner of Next, said, "The designs convey the balance between moving fast and healthily but also slowing down to create thriving, liveable places.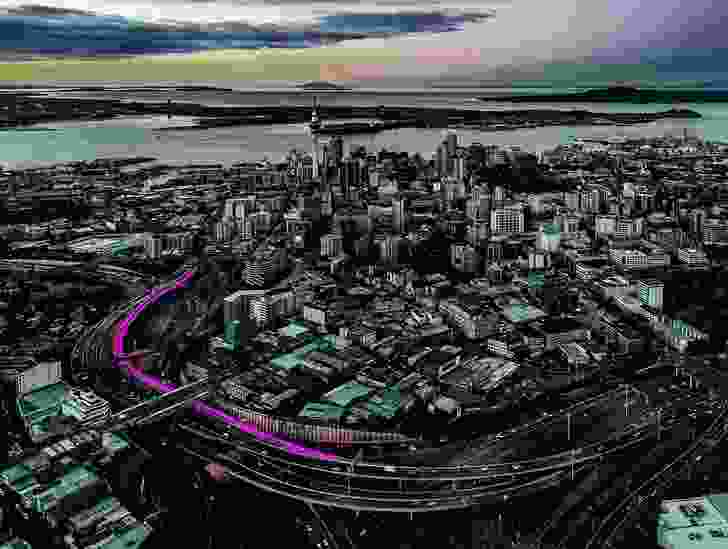 "Most encouragingly, the selected projects not only come from places with mature cycling cultures but also from places that lack that ideal context but are still showing what is possible. That makes us hopeful that inspiring examples can arise everywhere."
The Curtin project comprises a large landscaped space within the university's Creative Quarter precinct. It includes all-access end-of-trip facilities and secure bike storage using a two-tier stacking system. Atop the bicycle structure is an accessible, sloping grassy roof.
The use of the stacking storage system – the first of its kind in the state – resulted in the introduction of similar mechanisms in projects across Perth, including the new train stations being built as part of the Metronet project.
Maud de Vries, CEO of BYCS, the Amsterdam-based social enterprise behind the event, said, "Every city or neighborhood has the potential to become a success story through cycling. With this biennale, we want to offer the inspiration to make that happen, so we hope many cities will take up the offer to host the BAB on its international tour."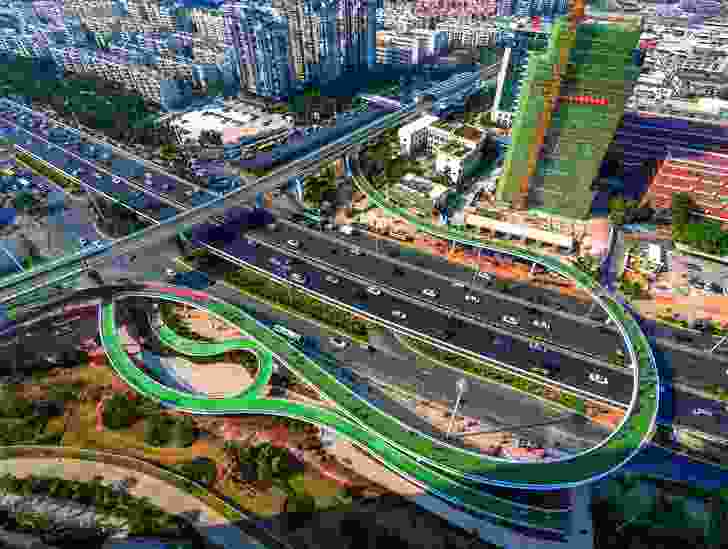 The full list of projects below:
Cycling and pedestrian connection (Barcelona, Spain) – Batlle i Roig
Coffee & Bikes (Delft, the Netherlands)– BureauVanEig/Biq
Curtin Bike Hub (Perth, Australia)– Coniglio Ainsworth Architects with Place Laboratory
Xiamen Bicycle Skyway (Xiamen, China)– Dissing and Weitling
Cycling through water (Limburg, Belgium)– Visit Limburg, Lens Ass Architects
Biggest bicycle parking in the world (Utrecht, the Netherlands)– Ector Hoogstad Architects
Cycling through the trees (Limburg, Belgium)– Buro Landschap
Nelson St Cycleway (Auckland, New Zealand)– Monk Mackenzie, Landlab, GHD
Ölhafen Bridge (Raunheim, Germany)– Schneider and Schumacher
Upside Down Bridge (New York, USA) – Nooyoon
Nørreport Station (Copenhagen, Denmark) – Cobe and Gottlieb Paludan Architects, Sweco
RheinRing (Cologne, Germany)– Spade
Radbahn Berlin (Berlin, Germany) – Paper Planes E.V.
Bike Parking Canopy (The Hague, The Netherlands) – NL Architects
Melkwegbridge (Purmerend, The Netherlands) – Next Architects