Where would you take Marie Antoinette for lunch? It's a question not often asked, but it springs to mind when visiting Melbourne's Conservatory. With its grand proportions, opulent finishes and bespoke detailing, there is something distinctly regal about this space.
Sydney-based architecture and interior design firm Blainey North and Associates' work for Conservatory comes on the back of its extensive engagement with Crown on other projects, including the Crown Towers Villas luxury suites, the Crystal Club members' lounge, and accommodation and restaurants at the Crown Metropol in Perth.
Blainey North says Conservatory is one of the most difficult briefs she's taken on during her career, which includes commissions for leading hotels, salons, luxury day spas and health clubs such as Fifty Four Park Street in Sydney, and residences for the Packers and Kidman-Urbans. Essentially, Crown executives asked her to take an already successful restaurant and make it bigger, brighter and better by refurbishing the entire space, revamping the food offerings and incorporating a new bar and lounge area.
Knowing that the restaurant name would stay the same, North and her team of five focused on conservatories throughout history, particularly those attached to French chateaus and English country manors. "We wanted to make the main space feel like you are in an outdoor room, so we started to look at how the fenestration of an actual conservatory would traditionally be broken up," explains North. "It usually starts with larger panes and graduates upward to smaller ones."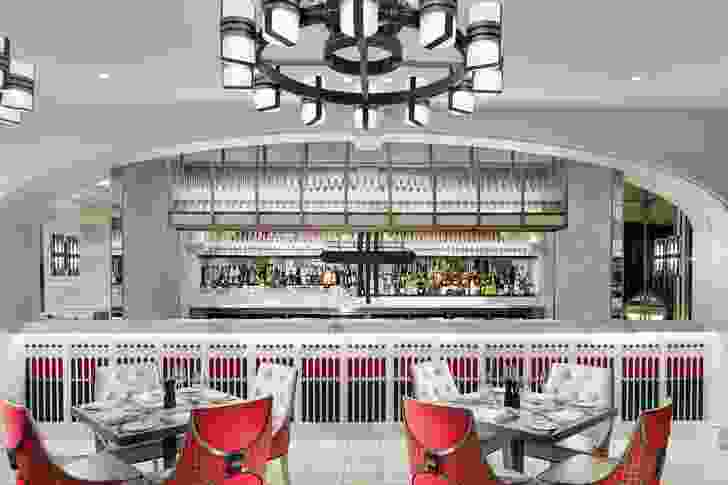 At the entrance, a curvilinear series of elegant window panels in crisp white frames hints at the bright interior beyond. In terms of spatial orchestration, one of the first tasks for Blainey North was making sure the volume worked at the human scale. This involved dividing the floor plan into three distinct zones; now, the kitchen-buffet is at the western end and the lounge bar nearer the southern entry, allowing the dining area to extend through the middle to the eastern end, taking full advantage of the enormous windows and views.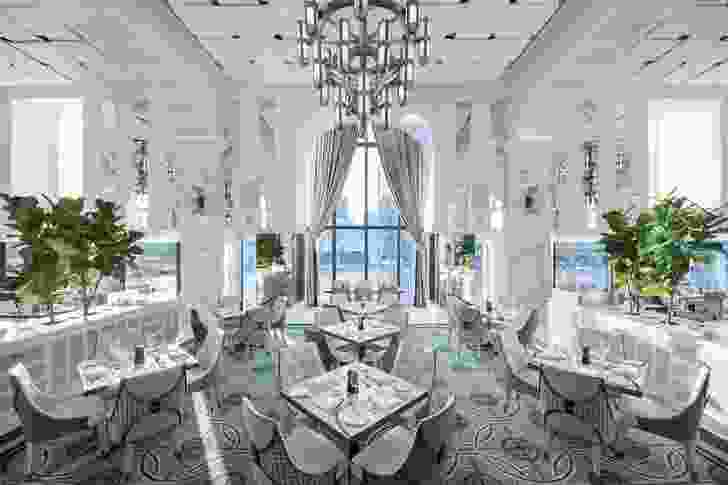 Sunlight floods the triple-height, 190-seat dining hall and mirrors flank each end of the space, reflecting the surroundings into an infinite perspective and evoking the Hall of Mirrors at the Palace of Versailles. The result is dazzling. The northerly orientation – the restaurant overlooks the Yarra River and CBD skyline – means that a symphony of reflections and refractions bounce daylight through the space in a way that enlarges it beyond its 660 square metres.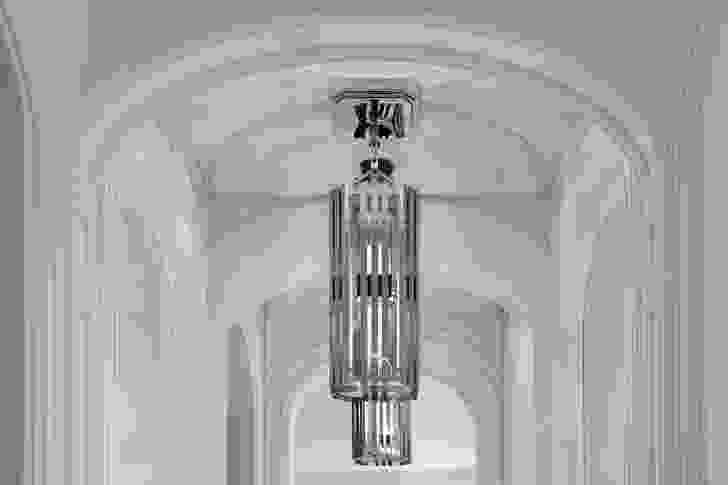 "When you're dealing with double- and triple-height spaces it's important to channel it to a human level so people still feel comfortable while being impressed with grandeur," says North. The biggest challenge was managing the transition from the massive light-filled dining area to a low-ceiling bar area next to a black fountain without them feeling disjointed. It was critical to ensure the bar didn't feel like a lesser space."
North has employed a series of white arches and columns inset with marble to achieve this. Together with large trees, these vertical elements help to populate the space so that it feels welcoming even in the rare moments when it's not busy.
Once your eyes have adjusted to the brightness of the space, it is possible to concentrate on details. A recurring motif is informed by the outline of chandeliers and the idea of an arch within an arch. It appears on the keystones, on the backs of chairs, on tabletops, on the carpets and on the menus and wine lists. These insignia are an extension of the emblems Blainey North created for the Crystal Club and logically become part of Crown's brand essence.
North and her team have stepped up the luxury throughout. Pillars are trimmed in hard-wearing brass and filled with marble and mirror insets that afford access to the views from any point and glimpses of other diners enjoying the cuisine on offer from the buffet. North's multi-cylinder chandeliers and the curves of her custom chairs are a nod to the industrial opulence of the art deco era. Every piece of furniture has been designed in-house and finished in Armani fabrics and perforated leather.
"I'm a fan of lingering over a great meal. It was important to me as a diner and food lover that the seats should be comfortable to sit in for long periods and that the tables are the right size," says North. Careful attention has been paid to acoustics. This is something too often ignored, especially in large hospitality venues. Carpeted areas, soft upholstery and the existing woven timber ceiling all serve as sound baffles, making it possible to enjoy conversation.
The display kitchen changes the face of buffet-style dining. Banish thoughts of half-heated food languishing in bain-maries. Here the theatre of food is in full force. White arches frame a dozen chefs working in a setting that would look at home in a Peter Greenaway film. Red mosaic tiles studded with white tiles create a sumptuous backdrop for the culinary activity. The cuisine is truly international, ranging from fresh seafood and sushi to slow-cooked roasts and tempting dishes from the tandoor. Bespoke spice canisters that echo the cylinders of the chandeliers reinforce the "world of food" concept. However, the area that would impress Marie Antoinette most is the dessert station, which is replete with chocolate fountains, fancy fruit, pastry creations and teppan ices ready for any choice of toppings. Oh, and did we mention cake? You're sure to find a host of gateaux, tortes and sponges as rich and indulgent as the spatial experience.
Design Statement
Conservatory makes guests feel like they have been instantly transported to London, Shanghai or New York during an era when craftsmanship and materials were revered, and buildings and interiors were designed to endure and built to last.
There are four distinct areas in which to dine at the 190-seat Conservatory, including a small collection of tables assembled close to the antipasto, seafood, salad and cheese selections, an intimate area near the bar and two larger dining areas. White marble floors, bespoke chandeliers, a woven timber ceiling, custom-made carpets, generous chairs and tables, locally made steel screens and dramatic reflective surfaces combine to create a lavish and engaging space in which to dine.
The restaurant is flanked at either end with floor-to-ceiling mirrors, which, teamed with double-height windows overlooking the Yarra River, create a natural light-filled and spacious environment.
The adoption of century-old techniques set in a modern context, such as the use of traditional fluted details on the bar and the restaurant's solid metal screens, along with the repetitive use of a soft arch formation, create a true mix of French-deco industria and old world decadence.
—Blainey North
Products and materials
Walls and ceilings

Bisazza mosaic tiles from Academy Tiles. Phillip Jeffries wallcoverings. Conley & Co aged mirror. Paint by Porters Paint and Dulux.
Joinery

Joinery from Aglo Systems and Shears and Mac.
Flooring

Brintons Carpets carpet.
Lighting and furniture

All decorative lighting and furniture custom designed by Blainey North.
Soft furnishings

Textiles from Mokum. Armani Casa furnishings, curtains and blinds, and Sahco curtains and blinds from South Pacific Fabrics. Alhambra furnishings from Elliott Clarke. Furnishings from Baresque. Haywoods Trimmings curtain tie-backs.
Credits
Architect

Blainey North
East Sydney, Sydney, NSW, Australia
Project Team

Rino Flumedinisi, Candida Surgenor, Simon Portbury
Consultants

Builder Schiavello
Joinery Shears and Mac
Kitchen design Chris Love Design
Landscaping Greenevent
Lighting design Blainey North, Point of View
Mechanical and electrical engineers WSP Lincolne Scott
Structural engineer Webber Design

Site Details

Location 4 Whiteman Street, Southbank, Melbourne, Vic, Australia
Site type Urban
Category Hospitality, Interiors
Type Restaurants

Project Details

Status Built
Design, documentation 6 months
Construction 8 months

Client

Client Crown Towers
Website crownmelbourne.com.au/conservatory

Source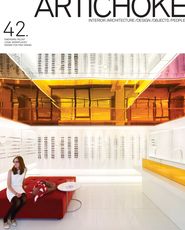 Issue
Artichoke, March 2013
Related topics