To better appreciate the Constance Street Affordable Housing scheme it is helpful to begin with some insight into the client, BHC (formerly Brisbane Housing Company), and the idea of affordable housing. The aim of affordable housing is to enable low- to moderate-income households to meet their basic needs without being priced out of, or otherwise excluded from, the housing market in areas where the need or demand for such housing is high and the supply is low or non-existent, or inappropriate.
An affordable rent is set as a proportion of market rent for the local area, and in the case of BHC this proportion can be up to 75 percent. In public housing (which also counts as affordable housing), rent is a proportion of household income and so falls (or rises) with that income. BHC is a not-for-profit housing provider, but it cannot afford to be a loss-making enterprise and so requires a reliable rental income stream. However, unlike tenants in public housing, BHC tenants do not face a rise in rent if their income increases. Thus BHC encourages tenants to prosper, while also aiming to support them to maintain their tenancy and put down roots. More recently, BHC has developed a mixed-tenure model that serves the dual purpose of improving social outcomes and achieving financial sustainability.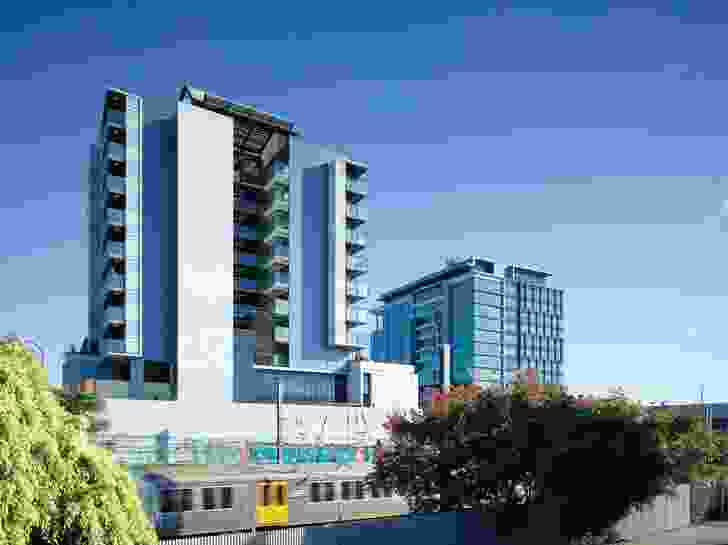 The Constance Street scheme by Cox Rayner Architects has been designed with care and skill on an understandably tight budget, following a protracted briefing period. The efficiently planned, ten-storey mixed-use building is located on a corner site at the edge of a new precinct in Fortitude Valley called Green Square, which is predominantly occupied by Brisbane City Council and commercial office space. The site adjoins the railway line that serves the northern half of Brisbane and beyond and includes an old brick electricity substation, which the building obligingly steps over.
Eight floors of housing sit above two floors of City Council space, which are given over to a variety of community organizations, programs and activities. BHC provided the council with this community space (and basement car parking) in exchange for the site. Access to the community space is from the corner of Constance Street and Green Square Close, while the housing is entered from a lobby tucked in behind in the close. The housing consists of seventy-nine units: twenty-four one-bedroom apartments (forty-five square metres) and fifty-five studios (twenty-five square metres). Two apartments are "fully accessible." One apartment is reserved for BHC's caretaker and there is also a housing office. Each of the two unit types can be furnished in a couple of ways. The balconies are generous and look well used, with individual clotheslines screened from the street, and residents can sit out without having to take the washing in.
A distinctive feature of the scheme is the organization of the units into two blocks, separated by a relatively wide, open-air atrium-like space from which all units are entered. Keeping the ends of this central space open and peeling back part of the roof has obviated the fire provisions that would otherwise apply to an atrium. These moves have enabled the housing floors to achieve considerable utility, amenity and delight on the slender budget. Tenant and visitor access to the building is keyed to the tenant's floor and each floor has a barbecue area with concrete bench seating and a common laundry space nearby. Garden beds occupy each level of the central space and the plants are doing reasonably well, especially on the higher floors. Seating for individuals and small groups is sprinkled throughout.
On the afternoon I visited, the outside temperature was in the low thirties and the central space was comfortable, with the stack effect cooling the central space and natural cross-ventilation tempering the air in the units. Some front doors were open and, on the inside of one security screen, the resident had hung a length of muslin, which was billowing gently in the breeze. Daylight levels in the central space were congenial and the space was peaceful. When a train rattled past, conversation ceased in the barbecue area but we carried on talking elsewhere. Tenant complaints have been rare and happy traces of prosocial behaviour include comfortable chairs left in a barbecue area and some voluntary gardening in the garden beds.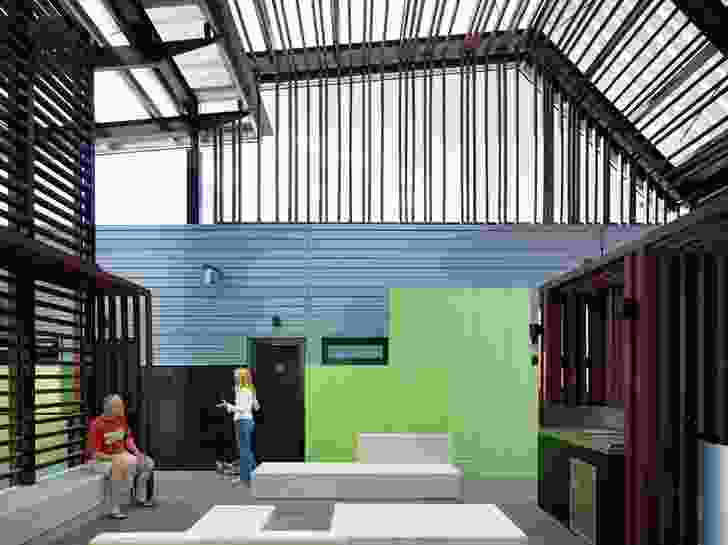 The project received a national award for multiple housing and a national commendation for sustainable architecture at the 2013 Australian Institute of Architects national awards and the accompanying jury citations rightly emphasized the sense of community the atrium-like space is designed to foster. There is more to this space and why it seems to work, however, than the brief jury citations capture. One citation remarked that "nobody is isolated and there is good informal community surveillance and security." But there is a difference between bringing people together and creating a space in which people would feel under continual surveillance. Atrium-like spaces in some large housing schemes have had this effect, reminding their residents of a prison. At Constance Street, however, people are not obviously on show and few doorways are in view from any one point in the central space. Views are often obscured or filtered by garden planting, timber or wire mesh screens, translucent glass balustrade panels and recessed doorways to units. There is also more than one route across the central space.
The jury citation for the sustainable architecture commendation noted that antisocial behaviour in the development is minor and attributed this outcome to the work of the architect. However, this overlooks the role that BHC plays – in selecting tenants, allocating and managing tenancies (every property has a dedicated tenancy manager) and on-site building management. BHC is required to select its tenants from Queensland's social housing waiting list and at least half of those selected must come from the two most in-need groups on that list. (In fact, BHC takes around 80 percent from these two groups.) Nonetheless, vacancy rates and rent arrears in BHC properties are low and tenant satisfaction appears to be high. At Constance Street, Second Chance – a local charity that tackles women's homelessness – donated twenty furniture kits to female tenants who were able to keep the furniture if they retained their tenancy for nine months. BHC has also worked with the private sector to establish an employment training program that has enabled a number of tenants to secure employment – including one resident who runs a yoga class for tenants downstairs in the community space. In circumstances such as these, any antisocial behaviour is surely less likely to occur. Moreover, by limiting access to each floor to the tenants on that floor (and their visitors), much smaller and more easily knowable neighbourhoods have been created in the building.
Constance Street shows how a close working relationship between a willing architect and a supportive client has enabled creative ideas to be grounded in the social and practical realities of housing and its management. In providing good quality accommodation in a higher-density scheme for lower-income households – all on a tight budget – the building demonstrates one of the important social and political contributions architecture can make.
Constance Street Affordable Housing is shortlisted at the 2014 World Architecture Festival Awards.
Credits
Architect

Cox Rayner Architects
Australia
Project Team

Michael Rayner, Tim Morgan, Antony Scott Pegum, Matthew Cavanough, Solomon Romion, Ivan Lisinac, Felicity Yang, Perry Gustafsson, Matthew Alder
Consultants

Acoustic consultant Heggies Australia
Builder Walton Constructions
Building certifier Philip Chun & Associates
Electrical and mechanical consultant DMA Professional Engineers
Hydraulic consultant Wood & Grieve Engineers
Landscape consultant Urban Space Design
Structural and civil consultant Lambert and Rehbein Brisbane
Town planning Cardno HRP

Site Details

Location Brisbane, Qld, Australia

Project Details

Status Built
Category Residential
Type Apartments, Multi-residential

Source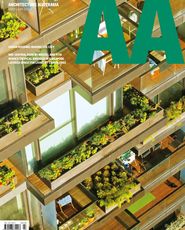 Issue
Architecture Australia, May 2014
Related topics