Construction begins for Parramatta Square 'twin towers,' Aspire Tower to follow
Construction works have begun at Parramatta Square for the latest piece of the $2.4 billion development project reshaping the rapidly growing western Sydney CBD.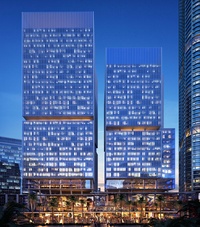 Developer Walker Corporation, responsible for 4, 6 and 8 Parramatta Square, has broken ground at the site of the first of its "twin towers," 4 Parramatta Square, a 135-metre mixed-use commercial tower designed by Johnson Pilton Walker (JPW). This tower will be followed by its twin, 6 Parramatta Square, a 154-metre tower also designed by JPW. Together, they will house 110,000 square metres of A-grade office space, and sit atop a two-level podium which will accommodate more than 3,000 square metres of retail space.
The third building, the Aspire Tower, designed by Bates Smart, was originally proposed as the tallest residential tower in the southern hemisphere, with plans for up to 700 apartments, a hotel and ground level retail. However, the developer has since submitted a proposal for a change of use from residential to commercial – a reflection of the high demand for office space in the area. Colliers International's Metro Office Research and Forecast Report for the second half 2017 found Parramatta had a record low vacancy rate of 4.3 percent, and A-grade spaces remained at full occupancy for the third consecutive period.
JPW's designs for 4 and 6 Parramatta Square were selected from more than 70 entries from Australia and internationally, through a design excellence competition run by Parramatta City Council in 2013.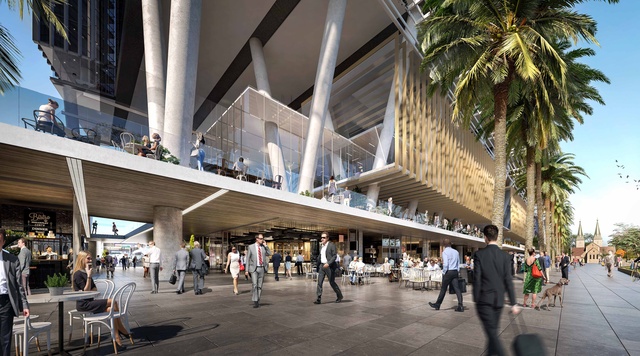 An architects' statement noted the building forms would respond to their site by "reinforcing the definition of Parramatta Square," while creating a dynamic skyline composition between the existing Sydney Water Building (2 Parramatta Square) and 8 Parramatta Square, the Aspire tower.
The towers will be raised almost 30 metres above the ground in order to promote "visual and physical permeability" across the site, and reinforce the axial vista along Parramatta Square to St. John's Cathedral Church.
City of Sydney's City planning and development director and competition jury chair Graham Jahn said at the time of the competition that the towers were highly legible and would complement the site. "These towers will provide 21st century workplaces in the heart of Parramatta. [They are] very composed and dignified," he said.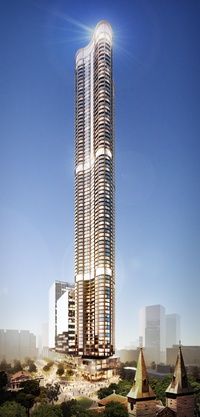 Bates Smart won a design competition for the Aspire Tower in early 2016, after a previous design by Grimshaw Architects was shelved. The design consists of a curvilinear form atop a rectilinear podium, which is intended to contrast with the other towers in the precinct.
The first tower being built, 4 Parramatta Square is expected to be completed in mid-2019, while 6 Parramatta Square will be ready for occupants in 2020.
The Walker Corporation towers will join a number of significant projects at Parramatta Square, including: 1 Parramatta Square, a high-rise Western Sydney University campus designed by Architectus (completed); 2 Parramatta Square, Sydney Water Corporate Headquarters by Multiplex (completed); 3 Parramatta Square, a mixed-use, 16-storey tower also by Johnson Pilton Walker; 5 Parramatta Square, a new civic building and library designed by Manuelle Gautrand Architecture, DesignInc and Lacoste and Stevenson, and a public domain designed by JMD Design, Taylor Cullity Lethlean, Tonkin Zulaikha Greer, and Gehl Architects.