Work has begun on the construction of a cycle and pedestrian bridge in Sydney's North Ryde, designed by KI Studio.
The bridge, being built at a cost of $40 million, will cross Delhi Road and the Hills M2 motorway. It will connect Macquarie Park, North Ryde railway station and the Lachlan's Line residential development in Macquarie Park. Landcom is the NSW government's land and development organization and is behind both Lachlan's Line and the bridge.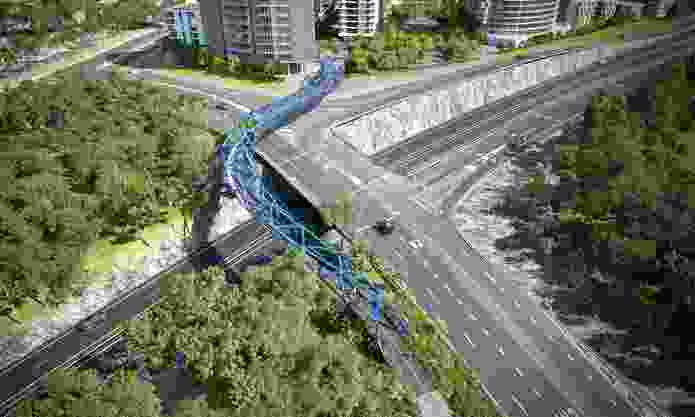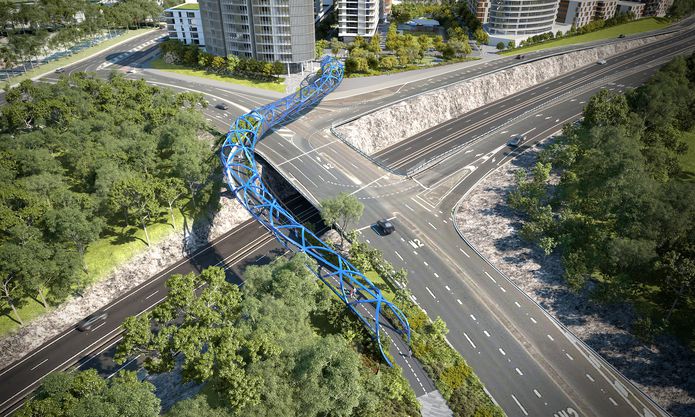 The transit-oriented development, currently under construction, will eventually contain approximately 2,700 homes housing 5,000 people on a nine-hectare site adjacent to the railway line between Macquarie Park and North Ryde stations.
Landcom chief John Brogden said, "I'd like to congratulate bridge architect KI Studio and structural engineering firm Arup for coming up with this elegant and bold visual statement."
"Its sinuous, fluid form gives it a sculptural quality, and the bridge will be very noticeable, with its blue spiraling truss design.
"The helix-shaped bridge design was chosen to mark the gateway to Landcom's Lachlan's Line urban precinct with an inspiring, unique structure.
"Thousands of pedestrians, cyclists and motorists will interact with this engineering marvel each day."
Bridge spans are expected to be in place by late 2019.
Related topics