Work has begun on a pair of mixed-use skyscrapers designed by Cox Architecture and Fender Katsalidis on a prominent site in central Melbourne.
The towers, at 60 and 62 storeys, would front Exhibition Street on a site in the north-east corner of the Melbourne City CBD, less than 150 metres from Carlton Gardens and the Royal Exhibition Building UNESCO World Heritage site. The towers will be situated within the World Heritage Environs Area buffer zone and has heritage overlays to protect views and vistas to the landmark.
The mixed-use building will contain retail spaces, more than 300 apartments and a 500-room Shangri-La hotel on the large, 4,790-square-metre site. A 160-metre-long "sky lounge" on the 46th floor will connect the two towers. The building will also feature large volumes of planting on its podium.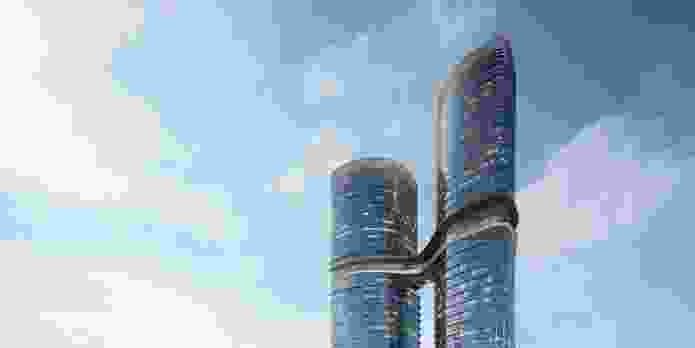 The City of Melbourne councillors voted in favour of the development at a meeting of the Future Melbourne Committee in May 2017, with the proposal later receiving approval from the Victorian planning minister.
Addressing the council, Cox Architecture director Philip Rowe said the design represented a "very innovative" solution to a "very complex site" that sits above three underground rail tunnels, currently occupied by the Telstra Exhibition Exchange building. The design features a "permeable, active and a very green space" at street level, Rowe said, with the permeability of the podium being particularly important in linking the CBD to Carlton Gardens and the rest of the city.
Rowe also explained that the twin-tower design was way of accommodating the demanding wind requirements of the site.
Voting against the proposal, councillor Jackie Watts said that while the design was interesting she was "not impressed with the way in which [the architects and developer] have gone about this," arguing that the building was too big and did not do enough to respect the Royal Exhibition Building and the World Heritage precinct that contains it."
Developer SP Setia appointed Multiplex to construct the building.
Related topics