Construction has begun on a 10-storey, 464-room hotel at Melbourne Airport designed by Fender Katsalidis, with interior design by Woods Bagot.
James Pearce, Fender Katsalidis director, said, "The hotel is going to act like a village centre and a gathering place to support the airport community in addition to travellers.
The hotel's primary presence at the street will be a pavilion containing the pool, café and bar. The shape of the pavilion is derived from the shape of an aircraft wing, "which has been sliced to reveal the pool and gym activities within."
It will also have sunshades on the façade that will "create an interesting abstract landscape in pop-art colours."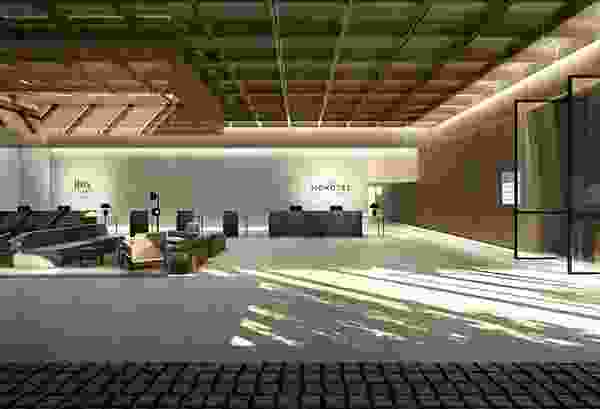 Pearce said, "The exterior looks fresh and crisp on the skyline designed to catch the eye."
The hotel will be operated by AccorHotels under both its Novotel and Ibis Style brands. The two hotels will share some common areas and facilities, including the lobby.
Sarah Alessi, lead interior designer at Woods Bagot, said the Ibis hotel interior "represents the urban grain of Melbourne through a personalized, modular and playful aesthetic, while the Novotel will take on a regional Victorian feel that has a sense of space and openness with a natural palette that creates the idea of a sanctuary.
"Using bespoke joinery throughout the lobby and guestrooms we're creating a truly Melbourne aesthetic that will permeate through the interiors and allow guests to establish a connection to the city as soon as they land," she said.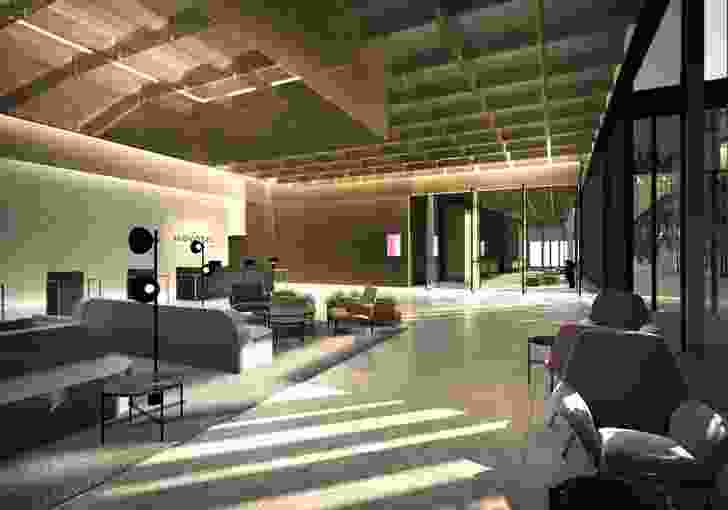 In a statement, Victorian tourism minister Martin Pakula said, "Our visitor economy is growing at a rapid rate and Melbourne Airport is the gateway for so many of our domestic and international guests.
"It's great to get a start on this project, which will add to the ever-improving experience of the hundreds of thousands of people who use the airport for business and pleasure each week."
The hotel will be the first to be built at Melbourne airport since 2002. It will be the centrepiece of a larger development by Melbourne Airport called The Hive, which will be located close to the airport's Terminal Four. The precinct will eventually contain a childcare facility and offices ranging from 1,000 to 10,000 square metres.