Work has begun on the construction of Bates Smart-designed office, hotel and retail precinct in Canberra that will be the first private sector development on the Vernon Circle side of London Circuit, on Constitution Avenue.
The $300 million project, to be known as Constitution Place, will include a five-storey office building to be leased by the ACT government and a 12-storey mixed-use tower that will host office and retail spaces and a 132-room hotel. A laneway will open up pedestrian access to the existing Canberra Theatre Centre from Constitution Avenue.
It will occupy the site of an existing car park on London Circuit and Constitution Avenue.
London Circuit, which surrounds City Hill at the northern apex of the Parliamentary Triangle, is currently home to the Legislative Assembly of the ACT (1961) and the ACT Supreme Court (1962) both designed by Yuncken Freeman.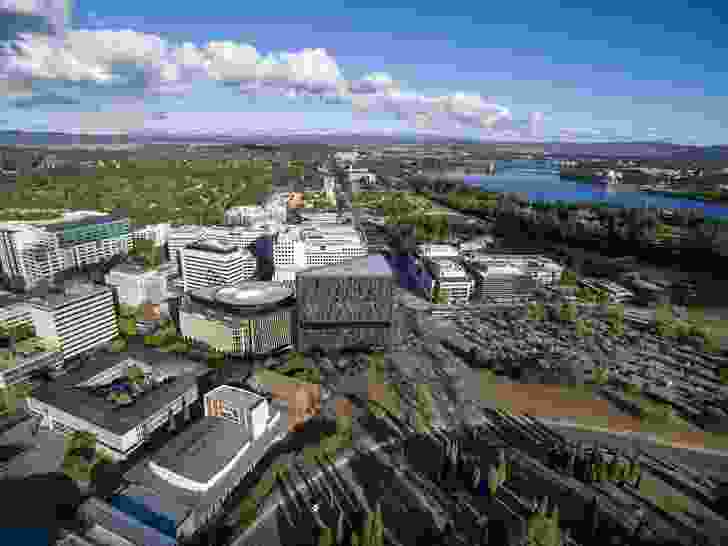 Speaking at the time of the release of the designs in March 2017, Bates Smart director Philip Vivian said that new precinct in intended to accommodate and honour Walter Burley Griffin and Marion Mahony Griffin's masterplan for Canberra.
"[The Griffins'] winning design for the international design competition held after federation has created a remarkable legacy," said Vivian, adding that the precinct's use of axes and geometry "was informed by the DNA of the Griffins' plan for Canberra."
The construction of Constitution Place was marked by ceremony attended by the ACT Chief Minister Andrew Barr in early December and the closure of a car park on the site on 6 January.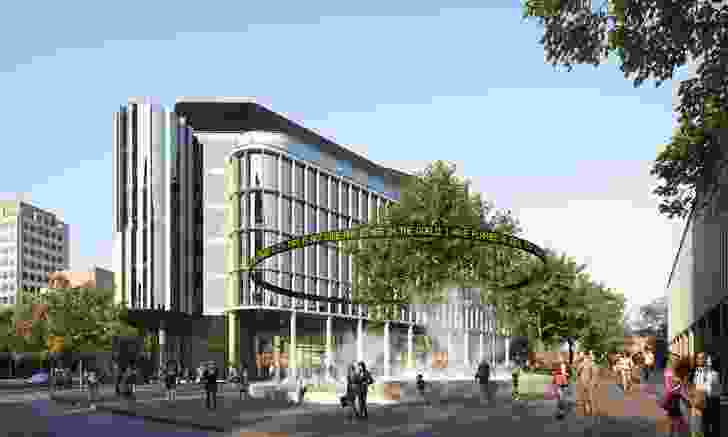 The breaking of ground on Constitution Place follows the controversial announcement in late 2018 by the federal government that it had sold four sites within Canberra's Parliamentary Triangle to private developers for $122.5 million, marking the most significant sale of government land in the historic precinct to date.
The Parliamentary Triangle, marked out by Commonwealth, Kings and Constitution Avenues, forms an integral part of Walter Burley Griffin and Marion Mahony Griffin's plan for Canberra. Along with Parliament House by Mitchell Giurgola and Thorp (1988) and Old Parliament House, many of Australia's most significant public buildings stand in the small area, including the High Court of Australia and the National Gallery of Australia by Edwards Madigan Torzillo and Briggs and the National Library of Australia by Walter Bunning.
The sale clears the way for the demolition of Anzac Park East (APE) and Anzac Park West (APW), the two "sentinel-like" towers that have framed views of the parliament across Lake Burley Griffin for more than 50 years.
Editor's note (9/1/18): This article originally misidentified the chief minister of the ACT as Stephen Byron. Stephen Byron belongs to the Capital Property Group. This error has been amended.
Related topics