Construction has begun on a new visitor centre for Phillip Island's famed Penguin Parade, designed by Terroir.
The $58.2 million development is being funded primarily through the Victorian government's Regional Tourism Infrastructure Fund, and will comprise visitor facilities, including retail and hospitality spaces and a theatre and interpretation space, in addition to a science centre. Phillip Island Nature Parks is making a $10 million contribution to the project.
The redevelopment will increase the capacity of the current Daryl Jackson-designed centre built in 1988, from 190 visitors to 350. The existing centre will be demolished and the site will be rehabilitated and returned to penguin habitat.
The Penguin Parade sits inside the Phillip Island Important Bird Area, which supports up to 32,000 Little Penguins.
The "parade" refers specifically to the penguin's daily commute from the sea, up the beach to their burrows. Over 4,000 penguins are thought to burrow on Summerland Bay Beach.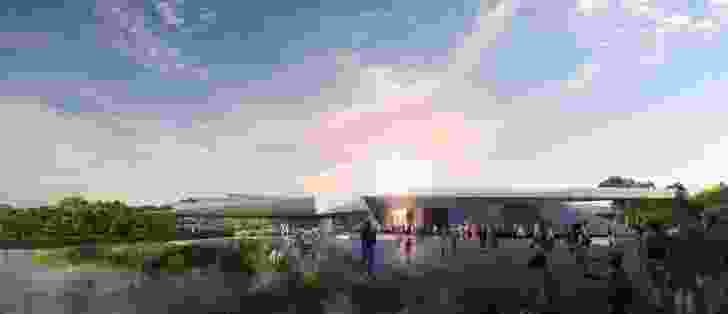 The star-shaped centre is being constructed at the meeting point of three distinct landscape types that make up the island's Summerlands Peninsula: basalt bluff, coastal dunes and wetlands.
Speaking to ArchitectureAU at the time of the design's reveal in May 2017, Terroir principal and director Scott Balmforth said the new centre "is intended to visually embody the sense that the building is reaching out to the landscapes but also stitching the landscapes together."
"So rather than the building drawing attention to itself, it's actually trying to create a sleeve within the landscapes around it."
The project also involves the restoration of penguin habitat and the remediation of 1.5 hectares of wetland.
Victorian environment minister Lily D'Ambrosio said, "The new visitor's centre will provide important environmental benefits – we're restoring 6.7 extra hectares of penguin habitat and ensuring the park's world-leading research can continue."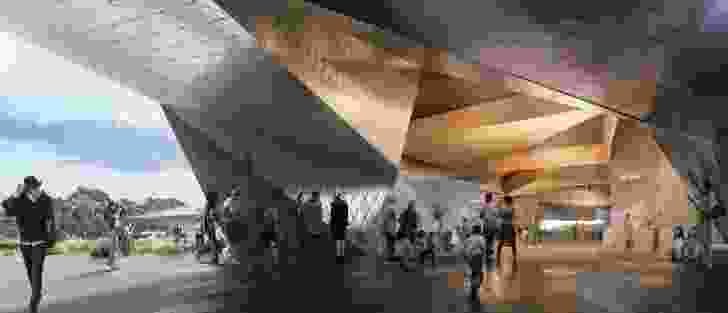 The new visitor centre is due to open in late 2019. Kane Constructions has been appointed principal contractor.
The centre is a key part of the 2012 Summerland Peninsula masterplan by Tract. It follows the completion of Penguin Plus Viewing Area, an eye-level underground penguin view facility, designed by Wood Marsh Architecture and Tract Consultants, which was also part of the masterplan.
The design of the new visitor centre was overseen by the Office of Victorian Government Architect's design review panel and National Parks' panel of experts.
In April the government also revealed designs for a new transit centre at Cowes, close to the Penguin Parade visitor centre, designed by Arup.
Related topics