Work has begun on the construction of an aquatic centre and park in Sydney's Green Square district, designed by Andrew Burges Architects with Grimshaw and Taylor Cullity Lethlean.
The Gunyama Park Aquatic and Recreation Centre is the largest development of its kind since the 2000 Sydney Olympics. Located at Joynton Avenue, the site will house a 50-metre outdoor pool, a 25-metre indoor pool, a leisure pool, a hydrotherapy pool and a gymnasium.
The design of the complex, which was unanimously selected over 144 other entries in a competition run by the City of Sydney in 2014, is inspired by rock pool formations, with the two lane pools arranged around an organically shaped "beach."
"It establishes a playful interaction of natural and constructed landscapes that grafts the beach into the urban pool experience," explained the design team in their proposal.
"[It aims] to match the primacy and hedonistic experience of swimming in Sydney's beach and harbour pools."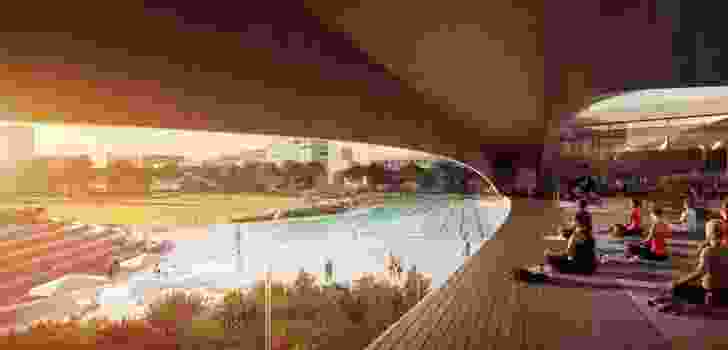 The construction of the centre is part of one of the largest urban renewal projects in Australia. When fully developed, the City of Sydney says, "Green Square will accommodate close to 61,000 people living in 30,500 new homes, and provide around 21,000 permanent jobs."
Projections made in 2015 estimated that the district would be the most densely populated place in Australia by 2030, with 22,000 people per square kilometer – a population density exceeding that of Hong Kong.
Other components of the multi-billion dollar redevelopment include the Green Square Library and Plaza by emerging practice Stewart Hollenstein in association with Colin Stewart Architects, which is due to be completed this year, and Peter Stutchbury Architecture's Community and Cultural Precinct, on the site of the former South Sydney Hospital, which was completed in late 2017.
Sydney lord mayor Clover Moore said, "Green Square is one of the fastest growing precincts in Australia, and we're doing everything we can to make sure it is a wonderful urban neighbourhood with the services and facilities its residents and workers need."
"The Gunyama Park complex will be a terrific place for locals and visitors alike to exercise, relax and catch up with friends and family. The pool will have something for everyone, from serious swimmers looking to improve their lap times, to families wanting a safe place for their children to learn to swim or play."
The centre is scheduled to open in 2020.
Related topics